Orientation
Welcome to St. Mary's University! As a new student, there's no need to feel overwhelmed by the many questions you have about the University and your academic future. No matter if you are a freshman, transfer, international or graduate students, we have orientation programs to smooth the transition.
New student orientations
Undergraduate students
Graduate students
International students
Undergraduate students: Zaragoza program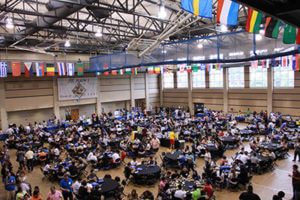 Your transition into life at St. Mary's University begins at Zaragoza! During Zaragoza, you and your family are introduced to the St. Mary's campus community, our programs, other students and their families. Most importantly, Zaragoza welcomes you as one of us. Zaragoza is a two-day orientation program for freshmen at St. Mary's University. Midyear Zaragoza is a one-day orientation for transer students and students who are taking classes St. Mary's for the first time.


Advising for Transfer Students

Welcome to St. Mary's University!

Once you complete the Enrollment Confirmation Process in Gateway, you can sign up for your preliminary advising appointment.  At that time, you will be registered for the spring 2018 semester.

To prepare for your preliminary advising appointment, complete the Transfer Student Advising To-do List below.

Transfer Student Advising To-do List

Become familiar with your major's degree requirements. Print and review degree plan for major (or major of interest, if undeclared.)

Bring a pdf copy of your GPS Worksheet to the preliminary advising appointment. If some of your transfer work does not appear in your GPS worksheet (degree audit), please bring an official or unofficial transcript with you.

Review the Spring 2018 Course Schedule in Gateway.

(To learn how to view course schedule in Gateway, follow the Quick Guide.)

Learn about the registration process. During your advising appointment at Zaragoza, you will receive a registration pin that is required for online registration and schedule changes. To become familiar with online registration, view the Online Course Registration Video. For your convenience a Quick Guide to register is also available.

Once you complete the Enrollment Confirmation Process, the Office of Academic Advising will contact you via email in order to schedule your preliminary advising appointment.

Students who do not schedule a preliminary advising appointment will meet with an academic adviser and register for the spring 2018 semester during Zaragoza on Jan. 9, 2018. Your academic adviser will assume you completed the Transfer Student Advising To-do List before attending Zaragoza.

Note: Your academic adviser will be assigned to you during Zaragoza check-in. Because your adviser assignment is based on your major, please ensure your GPS worksheet has the correct major information. If the major listed is incorrect, please contact the Admission Office at uadm@stmarytx.edu to update your record.

Bring the following information to your preliminary advising appointment and to Zaragoza:

Updated official transcripts, if applicable (Unofficial transcript, if currently enrolled in courses)
PDF copy of your GPS Advising Worksheet (degree audit)
Degree Plan for major (or major of interest)
Completed Schedule Planning Worksheet.



Zaragoza Details
Midyear Zaragoza
The midyear Zaragoza session is a one-day session for students transferring to St. Mary's, or taking classes for the first time at St. Mary's for the spring 2018 semester.
Midyear Zaragoza: Tuesday, Jan. 9, 2018
View Midyear Zaragoza Schedule
---
Residence Hall Check-In
Z1 and Z2 Zaragoza Programs
To allow students to get the full Zaragoza experience, freshmen are required to stay on campus; the cost is included in the orientation fee. Our program for students runs until 11 p.m. the first night, and begins early the next morning, making it difficult for even local students to commute home and back during the two-day program. Whether you intend to be a residential or commuter student during the academic year, staying in the residence halls during Zaragoza offers students a chance to become familiar with campus and to begin forming a network of friends. Each student will share a double-occupancy room with another student attending orientation. Students will be able to check into the residence halls beginning at noon on Day One of your chosen session.
Parents and guests are welcome to stay on campus during Z1 or Z2. Accommodations are reserved as part of the online Zaragoza registration process. Guests can select single or double occupancy, and you will be in a separate building from the students.
Accommodations for all rooms include beds, pillows, towels and linens. You will need to provide your own toiletries. You may also want to bring a blanket, additional towel, alarm clock and phone charger. Special accommodations for individuals with disabilities are available.
Z3 Zaragoza Program
New students who will be living in the residence halls for the 2018-2019 academic year and are attending the Z3 program may check-into their assigned rooms on Wednesday, Aug. 8, 2018. Students will receive information on check-in times and procedures with their room assignments later in the summer. Unfortunately, we are unable to accommodate commuter students, parents or other guests with on-campus housing during the August Zaragoza session.
Summer Zaragoza
Summer Zaragoza sessions are two full days. Zaragoza Days, an extended orientation program, is required of all freshmen.
Zaragoza I: June 11 and 12, 2018
Zaragoza II: June 14 and 15, 2018
Zaragoza III: Aug. 9 and 10, 2018
Zaragoza Days: Aug. 11-13, 2018
View Example Summer Zaragoza schedules
---
Zaragoza Costs
The $160 student orientation fee will be charged to the student's account and will appear on the tuition bill in the fall. The $160 fee includes the student and up to two parents or guests. You do NOT pay the $160 orientation fee at Zaragoza.
For additional guests, there will be a $30 charge for each guest who is 12 years old and older; $15 for guests between the ages of 4-11; and children 4 and under are free. Payment for additional guests will be collected at Zaragoza check-in.
Lunch and dinner on Day One, and breakfast and lunch on Day Two, will be provided for all registered participants.
Parents and guests attending Z1 or Z2 are invited to stay on campus. A single room costs $50 for one night or $90 for two nights. A double room costs $80 for one night or $145 for two nights. Accommodations include bed(s), pillows, blanket, bed linens, towels, hand towels and washcloths. You will need bring your own toiletries. Special accommodations for individuals with disabilities are available.
On-campus accommodations are not available for commuter students, parents or other guests during Z3 because our residential students are moving onto campus at this time. See discounted hotel rates
What to bring
Students should bring a photo ID, any transcripts, CLEP exam scores, AP exam scores, health records, etc., that have not already been submitted to the Office of Undergraduate Admission or the Student Health Center. You can turn in your important documents during the program.
Zaragoza Days (Extended Orientation)
Zaragoza Days is St. Mary's extended orientation program, which is required for all incoming freshmen. The program begins at 8 a.m. on Saturday, Aug. 11, 2018, and continues through Monday, Aug. 13, 2018, at 4 p.m.
Our extended orientation program continues your transition to life here at St. Mary's with a series of classes, workshops, activities and events designed to immerse you into the community and prepare you for the start of the semester. It is also the first time the entire Class of 2022 will be together!
As a reminder, move-in day for all freshmen attending Z1 and Z2 is Aug. 10, 2018, from 9 a.m. to 3 p.m. For those freshmen attending the Z3 program on Aug. 9 and 10, 2018, your move-in day is Wednesday, Aug. 8, 2018,  from 10 a.m. to 4 p.m.
As you are preparing for your arrival to campus, don't forget to pack:
Your Class of 2022 T-shirt — you will need this for the class photo
Your StMU drawstring bag — you won't need a full backpack, but you will need something to carry a few items
Something for taking notes — you will have several classes during Zaragoza Days
A smart phone, tablet or laptop — you may need to access the internet in some classes
Other orientation programs
Orientation for international students
In addition to academic orientation, international students must attend orientation for their respective areas (undergraduate or graduate).
International students are also required to attend International New Student Check-in. This check-in is mandatory for F-1 and J-1 Visa holders. Please bring all of your immigration documents, including your passport, I-20 (for F-1 students), DS-2019 (for J-1 students), SEVIS fee receipt, I-94 (small white card you will receive at the United States border), and any other documents you receive from U.S. immigration officials.
Fall International Students Check-in
Wednesday, Aug. 8, 2018
9 a.m. to 1 p.m.
University Center, Conference Room A
Orientation for graduate students
Attendance is expected for all new graduate students, with an online option available for distance students.
Why "Zaragoza?"
Zaragoza was a place of new beginning. It's the town in Spain where Blessed William Joseph Chaminade, founder of the Society of Mary, took time to reflect on his life and was the birthplace of the Society we now know as the Marianists.
Blessed Chaminade's experience in Zaragoza parallels the reflection and new direction you will experience as you begin your collegiate career at St. Mary's University.
Our Zaragoza program welcomes students to the St. Mary's community and prepares students to be members of our community by easing the transition for students and parents; instilling a sense of pride in being a St. Mary's student; and providing an opportunity for you to interact with other students, faculty, staff and alumni.