Spring 2020 Virtual Graduation Ceremony Speaker
Jennifer "Jenny" M. Robbins (B.A. '03)
Managing Partner, MADEL PA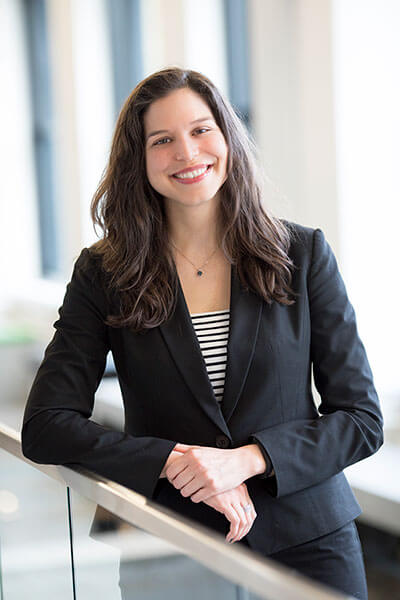 Jennifer "Jenny" M. Robbins is a trial lawyer in Minneapolis who started her career, as many lawyers do, by entering the world of Big Law. She made equity partner but wondered whether a large firm was really where she wanted to practice. When her mentor and law partner asked her to join him in starting a litigation boutique firm, she jumped at the chance.
As managing partner of MADEL PA, Robbins balances her practice with managing the law firm and its 13 full-time attorneys and staff. She has enjoyed the steep learning curve that came with the new firm and new role, but especially loves the firm's ability to focus on client needs while maintaining a team-oriented culture (which has led to the firm's recognition as a Twin Cities' "Best Place to Work" in each full year of its existence).
Robbins represents Fortune 500 companies and individuals in a variety of high-stakes controversies and complex matters, sometimes as plaintiff and sometimes as defendant. Her experience ranges from cases involving antitrust violations, trade-secret misappropriation, complex class actions, trademark infringement, regulatory matters and other commercial litigation to cases involving white-collar criminal charges, government investigations, and allegations of attorney malpractice and other professional misconduct.
She also serves on the boards of directors for Minnesota Women Lawyers, and after appointment by Minnesota's Governor in 2015, the Minnesota Board of Psychology.
She otherwise spends her time enjoying the wisdom of stand-up comics, reruns of The Office, accidentally engaging in various faux pas at a local meditation center, and anything involving Ellen DeGeneres, Abby Wambach, Conan O'Brien or her cat, Ginsburg (named after Justice Ruth Bader Ginsburg).
Jenny graduated with a J.D. from the University of Texas School of Law in 2007 and graduated summa cum laude with a B.A. in Psychology from St. Mary's University in her hometown of San Antonio in 2003.