April 24, 2023
Women's Tennis wins second-straight LSC Tournament title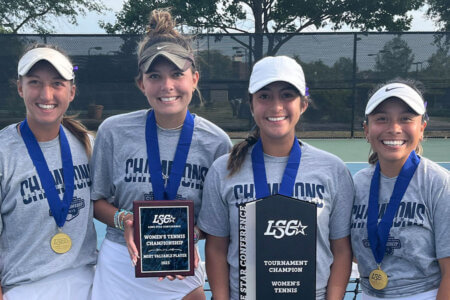 For the second-straight season, the St. Mary's University Women's Tennis team has won the Lone Star Conference Tournament in Arlington, doing so in 2023 with a 4-2 victory over second-seeded Angelo State.
Junior Kyndall Quiroz of San Antonio clinched the second match of the weekend for the Rattlers, earning MVP honors after scoring the fourth point with her come-from-behind three-set victory. After dropping the first set, she got a late break of serve to win set two 7-5 and won 6-4 in the third. Quiroz also scored the fourth point in the quarterfinals against DBU.
"It was just a great team effort today," said Director of Tennis Bill Macom. "Even though we were physically and mentally tired from yesterday, we didn't let losing the doubles point affect us at all. Everyone did a great job listening to coaching and stepped up their games with a high energy level. That's what it takes."
Quiroz and senior doubles partner Ashley Penshorn of Montgomery won 6-2 on court one to get the match started, but both the No. 2 and 3 teams dropped close 6-4 sets.
The Rambelles took a 2-0 lead with their win at No. 5 singles, but the Rattlers buckled down to win four straight singles matches.
Reed earns LSC Academic Player of the Year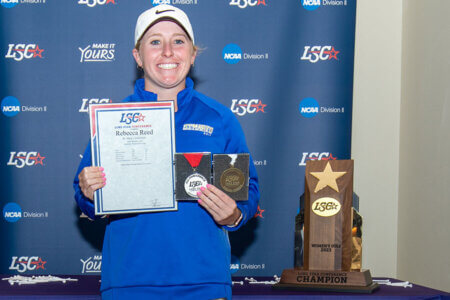 St. Mary's senior Rebecca Reed picked up Lone Star Conference Women's Golf Academic Player of the Year honors to headline the women's golf academic awards. The honor was announced by league officials Sunday at the championship banquet in Thackerville, Oklahoma.
Reed, who is from Midland and is majoring in Marketing, boasts a 4.0 grade-point average. She is a five-time LSC Commissioner's Honor Roll selection, two-time Women's Golf Coaches Association Scholar All-American and 2022 LSC All-Academic Team pick. Reed was also chosen as St. Mary's Marketing Student of the Year.
Reed and senior teammate Estelle Beck of Lakeway were also both honored on the Lone Star All-Conference Second-Team. Beck leads the team with a 75.70 stroke average, while Reed is right behind her at 76.04. The duo is dotted all over the record books at St. Mary's and was part of the third-place team at the 2021 NCAA Championship.
To be eligible for LSC academic honors, student-athletes must carry at least a 3.30 grade point average and be at least a sophomore, both academically and athletically. The Academic Player of Year award and All-Academic Team are selected from the list of academically qualified players, with the league's sports information directors voting based on both academic and athletic achievement. The All-Conference awards are voted on by the league's head coaches.