October 5, 2023
San Antonians run or walk on Saturday, Oct. 28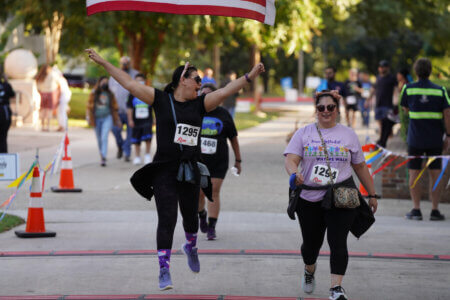 Hundreds of runners and walkers of all ages will tie their laces and leash up their pups on Saturday, Oct. 28, for St. Mary's University's annual 5K run/walk — the 2023 StMU 5K for the Neighborhood.
Proceeds raised will benefit the University's next-door neighbor, Holy Rosary Catholic Church. The race will be followed by food, music, fun and fellowship.
"Among my favorite St. Mary's University moments each year is crossing the starting line and — even better — the finish line of the StMU 5K for the Neighborhood," University President Tom Mengler said. "Runners, walkers and even dogs wearing 5K bandanas create a feeling of togetherness, a shared commitment to wellness and a sense of purpose that never fails to move me along with hundreds of students, employees, alumni and friends."
The StMU 5K encourages all its participants to run with purpose and take part in the University's ongoing effort to enhance the quality of life through neighborhood revitalization. St. Mary's strives to be a vital partner in promoting the health and wellness, education and safety of the community surrounding the campus.
This year, Mengler will join Sean M. Strater (B.B.A. '11, M.B.A. '16), president of the St. Mary's University Alumni Association, as the event's honorary starters.
StMU 5K for the Neighborhood
Who: St. Mary's University community, local runners and walkers, dogs (spayed/neutered, leashed)
When: Saturday, Oct. 28, Opening remarks at 4:45 p.m. 5K begins at 5 p.m.
Where: St. Mary's University campus. Start/finish at Alkek Plaza.
Why: Raise funds for Holy Rosary Catholic Church neighborhood outreach programs
Registration: Pre-register online or register on race day at 4 p.m.
Parking: In front of campus in Lots V and S, or at the back of campus in Lot D. For more info, visit our campus map.
Amenities: Fun for kids, snacks, beverages and live music. Awards ceremony at 6 p.m.
Packet Pickup: Bibs, timers and T-shirts may be picked up at these St. Mary's University campus locations: