October 13, 2023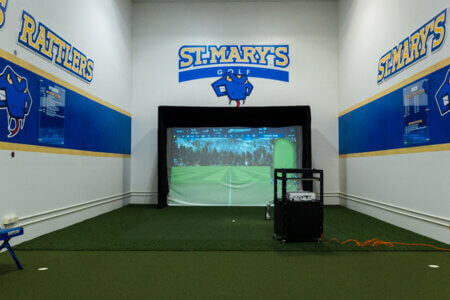 The St. Mary's University Department of Athletics recently unveiled a state-of-the-art Golf Performance Center in the Alumni Athletics & Convocation Center.
"It is another great day for Rattler Athletics," said Executive Director of Athletics Robert Coleman. "Our golf programs will be able to continue building upon the culture that has evolved over the past 20 years. The new Golf Performance Center will continue to allow our programs to train at an elite level year-round while also assisting us in recruiting the best student-athletes, enabling us to compete at the highest level of intercollegiate golf."
The 800-square-foot space, formerly used for racquetball, was transformed due to a two-plus-year project made possible by the generous gifts from Raymond R. Carvajal, R.Ph.; Edgar R. Dupre Jr. (B.S. '63); Alex M. Miller (B.A. '90); and Tony Ruggiero. In addition, longtime supporter Rich Dupre also played a critical role in the funding formation.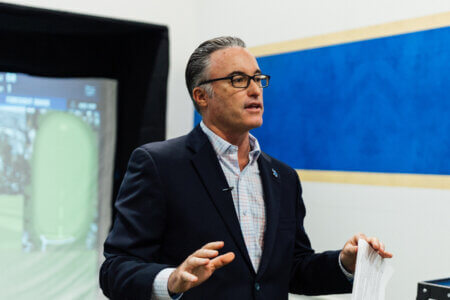 "We are so grateful for the generosity of Alex, Rich, Ed, Ray and Tony for their gifts toward this project," Coleman said. "Their love for the University and the Golf program will positively impact the lives of future student-athletes."
The performance center features a cutting-edge golf simulator — Foresight Sim-in-a-Box — with a hitting bay that allows the golfers to get in extra work when classes or bad weather might otherwise impede their ability to practice. The performance center is also home to a putting green with four holes. In addition to the golf-specific technology, the project also features new LED lighting and security enhancements.