August 14, 2023
Biannual service event on Aug. 19 continues work with local nonprofits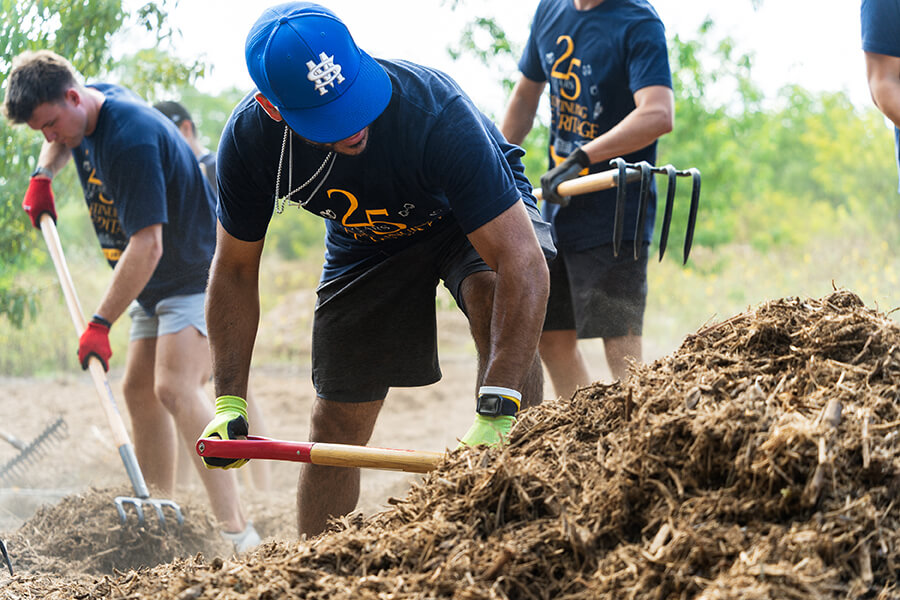 St. Mary's University students, faculty, staff and alumni will volunteer across San Antonio on Saturday, Aug. 19, for Continuing the Heritage — the biannual event during which the St. Mary's community serves at partnering nonprofits throughout San Antonio.
The day of service happens at the beginning of each semester. It brings together volunteers for projects, such as assembling picnic tables for schools, assisting with clean up and organization at nearby schools and nonprofits, weeding and planting in community gardens, and helping with litter pickup and painting over graffiti at parks. The event will draw about 450 volunteers.
Volunteers will meet at the St. Mary's University Flex Field at 7:30 a.m. on Saturday, Aug. 19, for an opening ceremony, which includes breakfast and prayer. From 9 a.m. until noon, volunteers will serve at sites.
St. PJ's Children's Home at 919 Mission Road — Student volunteers will be helping with campus beatification and organizing the resources center.

Graffiti Wipe Out (City of San Antonio) at 1450 Mira Vista — Volunteers will be helping paint over graffiti at the drainage channel at Gilbert Garza Park.

Ascension DePaul Services at 7607 Somerset Road — Volunteers will help prepare a new classroom. They will assist with cleaning the classroom and organizing the closets.

San Antonio Food Bank at 5200 Historic Old Hwy 90 — Volunteers will distribute food to the community through a drive-thru distribution model. Volunteers will also be responsible for bagging and sorting products.
Since 1997, 13,468 volunteers have offered more than 54,410 hours to organizations that provide much-needed services throughout the area.