September 12, 2023
2023 Hall of Fame includes the first Women's Golf inductee, 1988-1989 Men's Basketball team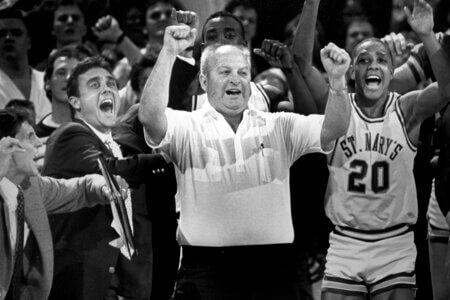 Five individuals and one team that have paved the way for future generations, set the standard of excellence at St. Mary's University and risen to the top of their respective sports will be inducted into the St. Mary's 2023 Class of the Athletics Hall of Fame on Nov. 9.
The induction ceremony will begin at 5 p.m. on Nov. 9 on campus at Bill Greehey Arena. Tickets for the event are available here for $75 per adult.
The class includes the first inductee for Women's Golf in Jillian Wyne (B.B.A '03), while the 1988-1989 Men's Basketball team becomes the second team to join the Hall. The group also includes Softball's Elizabeth Beyer (B.B.A. '05), Kevin Kotzur (B.A. '12) from Men's Basketball and Carl O'Neal (B.S. '13) from Baseball. Long-time coach and administrator Charlie Migl (B.A. '78) completes the prestigious class.
More about the inductees:
Elizabeth Beyer (B.B.A. '05), Softball
Beyer earned two All-American honors in her two seasons (2004-2005) with the Rattlers, finishing second all-time in home runs with 40. Beyer belted 24 homers in 2005, which was the record at the time, and is still tied for the all-time mark in both St. Mary's and Heartland Conference history. Her 67 RBI in 2005 are tied for second in school history and fourth in league history. She was named to the Heartland Conference 20th Anniversary Softball Team after being named Co-Player of the Year in 2004. In two years, she batted .401 with 40 home runs, 132 RBI, 23 doubles, 105 runs scored and a .801 slugging percentage.
Kevin Kotzur (B.A. '12), Men's Basketball
Kotzur, a four-time (2010-2013) All-Region selection and the Rattlers' lone member of the 2,000 points/1,000 rebounds club finished his career with 2,004 points (third best in school history) and a school record 1,039 rebounds. He was a Second-Team All-American as a senior when he also earned South Central Region Player of the Year honors, as well as being chosen for the NABC DII College All-Star Game and to the NABC Allstate Good Works Team for his volunteer efforts off the court. Kotzur was also named to the South Central All-Region Second Team in his first three years. He finished his career with the school career field goal percentage (66.2%) and blocked shots (112) records, second in field goals made (854) and third in free throws made (296). During his time on the hardwood, the Rattlers earned two NCAA Regional appearances, with a Round of 16 showing in 2013.
Charlie Migl (B.A. '78), Baseball, Baseball Coach
In his 35 years as the head Baseball coach, Migl finished fourth all-time in NCAA Division II history 1,246 victories. Migl had 33 winning seasons in those 35 years, with the club becoming NCAA Division II national champions in 2001. Migl's teams won 15 conference titles, and appeared in seven NCAA Regionals and three NAIA World Series. Migl's 1,246 wins also rank 30th all-time, regardless of division. He was inducted into the Heartland Conference Hall of Fame in the league's final year of existence and earned 14 conference coach of the year awards — seven in the Heartland Conference, five in the Heart of Texas Conference and two in the Big State Conference. He also earned National Coach of the Year honors in both 2001 and 2012. Migl was a four-year letter-winner at St. Mary's in Baseball while earning his Bachelor of Arts in Physical Education in 1978. After two years as a teacher at Harlandale High School, Migl was hired in 1982 as Assistant Baseball Coach and took over the reins five seasons later, spending 35 seasons at the helm of the Baseball program. In addition, Migl also spent time working with the Men's and Women's Tennis and Men's Soccer programs while he was an Assistant Baseball Coach.
Carl O'Neal (B.S. '13), Baseball
The two-time All-American was one of the most decorated Rattlers to ever play baseball, earning ABCA D-II National Pitcher of the Year honors in 2012 following a season in which he went 14-0 on the mound and led the Rattlers to the College World Series. O'Neal went 27-2 on the rubber over his final two seasons, en route to winning 39 career games — the second-most wins in Rattler history with a 39-6 career mark. A two-time Regional Pitcher of the Year in 2012 and 2013, O'Neal was also named a CoSIDA Academic All-American in 2013. For his career, he posted a 2.46 ERA (fourth-best in school history) over 340.1 innings pitched (also fourth in school history), while earning a program-record 55 starts on the hill. He pitched 18 complete games, struck out 284 batters and limited opponents to a .209 batting average. His 14 wins in 2012 represented the second-most in a single season for the Rattlers, earning five shutouts that season.
Jillian Wyne (B.B.A. '03), Women's Golf
Wyne was a two-time WGCA All-American in 2002 and 2003, helping kick off a new sport at St. Mary's with a bang. As a senior in 2002-2003, Wyne won seven tournaments, still the most in a single season in school history, and her 11 tournament victories are the career standard, more than doubling the next Rattler on the list. Her career scoring average of 79.61 stood as the record for four years and remains in the top 10 today. She ended her junior season ranked 12th in the nation and was No. 3 as a senior, helping lead the team to a sixth-place finish at the NCAA Championship. She won the NCAA Regionals with a three-round total of 233 as a senior after finishing second in the same competition as a junior. Wyne was also an All-American Scholar in 2002 and a member of the Heartland Conference 20th Anniversary Team.
1988-1989 Men's Basketball Team
Players: Joe Baker (B.A. '92), Medric Boddie (CL '92), Matt Cernosek (B.B.A. '92), Gary Durbon (B.A. '92), Everette Henderson (B.A. '91), Sam Hines (B.A. '93), Anthony Houston (B.A. '90), Zachary Lawson (CL '89), Carlos Love (CL '90), Omonuwa Obaseki (CL '92), Steve O'Keefe (B.A. '91), Warren Schulz (B.B.A. '90), Steve Smith (CL '90), Warren Smith (CL '91), Ronald Thomas (B.A. '91), Adrian Wright (B.A. '91); Managers: Lejon Allen, Don Brennan (B.B.A '90, J.D. '93), Steve Ludyen (B.A. '90), Jorge Vasquez
Coaching Staff: Buddy Meyer (B.A. '65), Jim Zeleznak (B.A. '79), Steve Sylestine, Dr. Jesse DeLee
The 1988-1989 Men's Basketball team won the NAIA National Championship with a 28-5 record. Head Coach Buddy Meyer was named the National Coach of the Year and Anthony Houston was an All-American for the team that won its final 12 games of the season and went 9-1 in Heart of Texas Conference play. Both Houston and Zach Larson were All-NAIA District IV selections, while Rusty Thomas joined them on the All-Heart of Texas Conference team. The Rattlers defeated East Central in the Championship game, 61-58.