March 29, 2022
The St. Mary's University School of Law also ranks for clinical training
For the third year in a row, the St. Mary's University School of Law Advocacy Programs ranked in the top 20 in the nation by U.S. News and World Report — moving up to tie for the No. 14 spot in the 2023 Best Graduate School Rankings released today.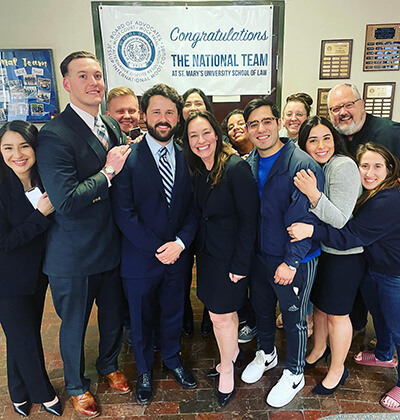 The St. Mary's Law Advocacy Programs prepare students for real-world litigation by developing their trial and appellate courtroom skills. The Advocacy Programs at St. Mary's include the National Trial Teams, which focus on trial advocacy, moot court and alternative dispute resolution competitions across the country; and the Board of Advocacy, which administers competitions throughout the year at St. Mary's.
"The consistency in maintaining a top 20 ranking over the course of the last few years is an affirmation of the way we teach our students to be ethical, practice-ready attorneys," said Assistant Dean for Advocacy Programs A.J. Bellido de Luna, J.D. "I am proud of all of the alumni, coaches and students who have helped us break past the top 15 barrier and our school leaders who value skills-based learning," 
Since the 2020 rankings, the St. Mary's Law Advocacy Programs' U.S. News and World Report ranking continued to climb, from being a top 25% program to a top 20 program in the 2021 rankings, to tie with the University of California, Berkeley, for the 17th best program in the country in the 2022 rankings and now rising to tie Syracuse University in New York for the No. 14 spot.
"The skills our students learn in both Advocacy and Clinical Programs aid their success as attorneys and judges, and positively impact their clients and communities long after they graduate."

Patricia E. Roberts
The American Bar Association also ranked St. Mary's Law in a top-four program in 2021.
The St. Mary's University School of Law National Trial Team became national champions in January after defeating some of the toughest teams in the country during the National Trial League Competition. The competition simulates litigation skills in a courtroom setting.
St. Mary's Law also tied for the No. 80 ranking on the U.S. News and World Report 2023 list for clinical training. The Clinics at St. Mary's Law include the Consumer Protection Clinic, Family Law Clinic, Criminal Justice Clinic and the Immigration and Human Rights Clinic.
"It is exciting to see our Advocacy and Clinical Programs recognized nationally for the exceptional way they instill in our students ethical and skilled practice," School of Law Dean Patricia E. Roberts, J.D., said. "The skills our students learn in both programs aid their success as attorneys and judges, and positively impact their clients and communities long after they graduate. We are grateful to our extraordinary professors and the tireless efforts of our students."