October 24, 2022
Event to unite the legal community of all faiths through processions, music and ritual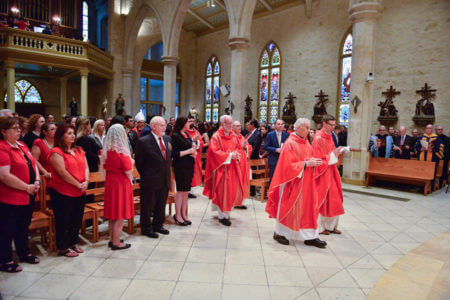 The St. Mary's University School of Law, the Archdiocese of San Antonio and the Catholic Lawyers' Guild will draw together the San Antonio legal community to celebrate the 70th annual Red Mass at San Fernando Cathedral on Thursday, Oct. 27.
The annual event upholds the centuries-old tradition that marks the fall start of the judicial year.
"We gather at Red Mass to reflect on the role each of us plays in preserving the rule of law, and seeking justice and peace, standing united in our prayers for wisdom and compassion," said Patricia E. Roberts, J.D., St. Mary's Law Dean.
At 5:45 p.m., judges and legal organizations will have a procession carrying bright red banners through Main Plaza to the Cathedral at 115 Main Plaza. The Mass will begin at 6 p.m. and is open to the public. Guests are urged to plan for additional travel time as there is a river parade occurring the same night. Parking options can be found on this list of downtown parking garages.
Auxiliary Bishop of San Antonio Gary Janak will be the principal celebrant and homilist. Roberts will give welcome remarks.
"Red Mass is a great equalizer — judge, lawyer, clerk and intern gather together in prayer knowing that we all stand in the need of the mercy of God, the Just Judge," said the Rev. John Thompson, S.M., Ed.D., Vice President for Mission.
The Red Mass tradition dates to 1245 in Europe when both the bench and bar attended the Mass together at the beginning of each judicial session. The name references both the crimson robes worn by judges and the red vestments worn by priests in honor of the Holy Spirit. Legal communities across the country celebrate Red Mass to request God's blessings and guidance on the administration of justice.
The St. Mary's Law and the Catholic Lawyers' Guild of San Antonio revived the tradition 70 years ago and organize the annual event with the Archdiocese and representatives from San Antonio legal organizations, the judiciary and the State Legislature.
"Over these 70 years, people from different backgrounds and faith traditions have joined together across the aisle to pray for justice," said Sister Grace Walle, F.M.I., D.Min., the St. Mary's Law Chaplain who helps organize the event. "When we gather at Red Mass, it truly will be an opportunity to demonstrate that we are 'one nation under God.'"