January 31, 2022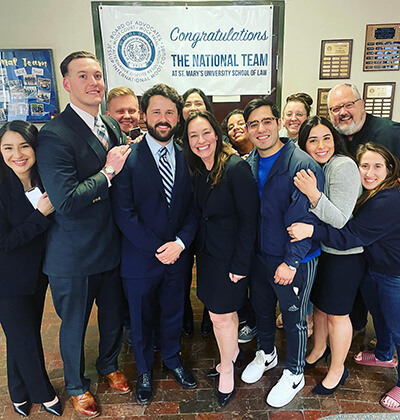 The St. Mary's University School of Law National Trial Team became national champions Sunday after defeating some of the toughest teams in the country during the National Trial League Competition, a trial advocacy competition that simulates litigation skills in a courtroom setting.
The virtual tournament began Fall 2021 with 12 teams, eight of which were ranked in the top 25 programs in the country by U.S. News and World Report. The advocacy program at St. Mary's Law was ranked 17 for 2022 by U.S. News and World Report and top four by the American Bar Association last year.
After seven preliminary rounds in the fall, St. Mary's Law advanced to the championship round-robin weekend where they defeated the team from Chicago-Kent College of Law at Illinois Tech in the finals to take the national title.
"These are hard victories to come by," said A.J. Bellido de Luna, J.D., Assistant Dean for Advocacy Programs and Hardy Service Professor of Law at St. Mary's. "You need to have a team that is extremely prepared, has put in the hard work and has a strong unity."
In total, St. Mary's Law competed in 11 rounds of competition, having to quickly adapt to eight civil and criminal fact patterns, or new facts for a new case. The team was given one fact pattern every two weeks, simulating a fast-paced law firm environment.
The championship St. Mary's Law team included third-year J.D. students Robin Becker, Kenneth Ferguson, William Hayes, Sergio Rodriguez and John Sydow, and second-year J.D. students Vanessa Herrera, Daniela Jimenez, Maria Jaimes, Raven Peña and Vanessa Skillman.
"This championship win is just further evidence of the incredible work that Assistant Dean Bellido de Luna, our coaches and our students do on a daily basis," said St. Mary's Law Dean Patricia E. Roberts, J.D. "I am very proud of all of our student advocates, the long-standing excellence of our program and its championship wins, and this latest accomplishment by the National Trial Team."
Hayes was also named Best Advocate during the competition. He expressed gratitude for the coaches who pushed the team so far: Deb Junek, Jess Junek, Misty Deatherage (J.D. '18), U.S. Air Force Capt. Brad Walter Simon and Bellido de Luna.
"It was a real marathon," said Hayes, a Denton native. "We're full-time students on top of this, but we had great coaches. Assistant Dean Bellido de Luna selected really effective coaches who had a diversity of viewpoints and provided an environment where we could all flourish into really strong advocates."
The St. Mary's National Trial Team last won a national championship in 2015, though its moot court teams, which simulate appellate law, have won several national titles in recent years. Overall, the St. Mary's Law Advocacy Program has 32 national championships, led by its moot court teams.
"For a school like St. Mary's, which puts a huge emphasis on advocacy, to be able to show the country what we are capable of as a team, it's just an incredible feeling," Bellido de Luna said. "Now that we won this past weekend, we know that we can continue to win. Other teams will start to worry when they see us competing."
St. Mary's University, founded in 1852, is the first institution of higher learning in San Antonio and the oldest Catholic university in the Southwest. It offers 75 programs, including doctoral and law programs. Its vision, as a Catholic and Marianist liberal arts institution, is to become one of the finest private universities in the region, a gateway for graduates to professional lives as ethical leaders in Texas, the nation and the world.