March 23, 2022
The Rev. Paul Haffner, Ph.D., jokes that saying anything more than the title of his scheduled lecture at St. Mary's University will give the whole speech away.
Titled The Contribution of Eastern Christendom to the Development of a Theology of the Environment, Haffner's lecture will discuss how Eastern Christendom takes a more mystical approach to religion as opposed to Western Christendom and its focus on moral duties.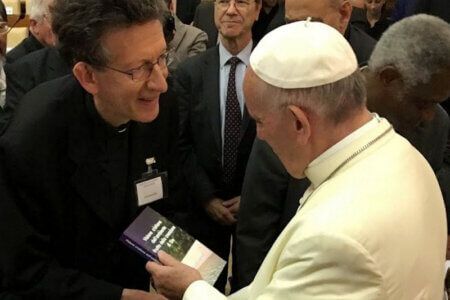 The series, founded through a gift by Glenn MacTaggart (J.D. '79, M.A. '89) and his wife, Karla MacTaggart, allows for the recruitment of speakers from various faith traditions to speak about topics such as Catholicism in a changing world, religion in a pluralistic society and faith in areas such as art and science.
Haffner says he will touch on numerous topics, but focus heavily on how Eastern and Western Christendom address environmentalism.
"Eastern Christendom inspires us to see the beauty of creation as made by God and therefore, we're more inclined to want to care for it," said Haffner during a Zoom interview from his home in Rome.
An author of more than 40 books and 150 articles on philosophical and theological themes, Haffner studied physics at Corpus Christi College Oxford in England and became an ordained priest in 1981.
He has been a lecturer at the Pontifical Gregorian University in Rome since 1987, at the Duquesne University's Italian Campus in Rome since 2001 and virtually at Seton Hall University since 2014.
The topic of environmentalism also goes along with Pope Francis' 2015 encyclical, Laudato Si,' on Care for Our Common Home, which calls for actions to address climate change.
St. Mary's was the first University in Texas among a global cohort of more than 100 universities to join Pope Francis' call, and Haffner lauded the University's commitment to the task.
Much like teaching a group of students, Haffner said the goal of the Church and its connection to environmentalism is about giving tools to reach the goal without being overreaching.
"We want to inspire people through beauty and with the beauty of the world, so we'll all go and take care of it," Haffner said.