June 10, 2022
Class Action podcast gives listeners insight into trial advocacy
St. Mary's School of Law students are front and center in the newly launched Class Action podcast, hosted by MSNBC's Katie Phang. Starting in 2021, podcast producers Lisa Gray and Kevin Huffman followed the St. Mary's Advocacy Program's National Team for nearly an academic year as they learned fundamental trial skills. The teams then competed in scrimmages and high-stakes tournaments against law schools from around the country.
The National Trial Team became national champions in January at the National Trial League Competition. The American Bar Association ranked St. Mary's Law as a top-four program in 2021. The program also increased its U.S. News and World Report ranking this year to tie for No. 14 in the nation.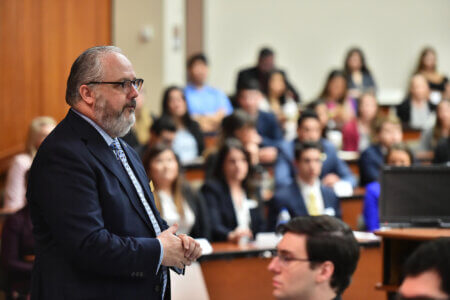 The initial podcast episodes, which went live on Tuesday, detailed an intensive boot camp led by A.J. Bellido de Luna, J.D., the Assistant Dean for Advocacy Programs, and highlighted the emotional moments of the demanding competition.
Bellido de Luna said he believes making mistakes during mock trials helps better prepare students for careers in the courtroom.
"A lesson for one is a lesson for all," Bellido de Luna said.
Mariel Encinas, a first-year J.D. student at the time of the podcast recording, expressed hopes to be a special victims prosecutor.
"I have no lawyers in my family, but I was a paralegal and a legal secretary prior to coming to law school," Encinas said. "I didn't want to be the behind-the-scenes person. Everything that the staff [where she worked] does is so important. I wanted to be the advocate in the courtroom."