August 18, 2021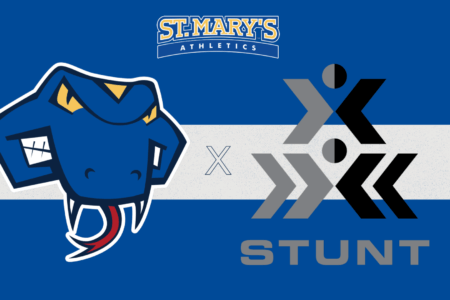 St. Mary's University and Rattler Athletics are proud to announce the addition of STUNT to their varsity sports portfolio, beginning in the 2022-2023 academic year.  
STUNT will become St. Mary's 13th varsity sport and the University's 12th NCAA Division II program. Three other Lone Star Conference institutions already feature STUNT, one of the state's and nation's fastest-emerging sports.
"We are thrilled to announce the addition of STUNT for St. Mary's University and Rattler Athletics," Executive Director of Athletics Robert Coleman said. "Not only is it the fastest growing female sport in the United States but it will also help continue to provide more opportunities for female student-athletes to experience while enhancing school spirit and campus life."
STUNT focuses on the technical and athletic components of cheer and features several elements, such as partner stunts, pyramids, basket tosses, group jumps and tumbling. Each game is comprised of two teams facing off on the floor at the same time. As each element is finished, the winning side takes the round and point, and has the chance to select which routine will be performed next.
"On behalf of USA Cheer and STUNT, we are thrilled at the addition of St. Mary's University," said Amy Haney, STUNT Director of Expansion and Media for USA Cheer. "As the fourth Varsity program to add STUNT in the Lone Star Conference, we are excited for the opportunity they are providing female athletes to continue their STUNT careers at the collegiate level while earning a top-notch education as well." 
The new program will call the recently upgraded Bill Greehey Arena home starting in Fall 2022.
As STUNT recruiting heats up this month, Coleman will launch a national search to find St. Mary's first-ever STUNT head coach.
Additionally, interested students or prospective students who are interested in STUNT may contact Executive Director of Athletics Robert Coleman by email at rcoleman3@stmarytx.edu or by phone at 210-436-3605.