November 18, 2021
St. Mary's University will also update STEM curriculum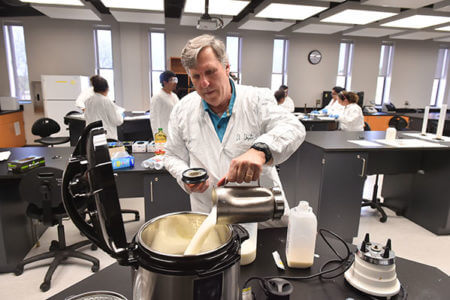 The U.S. Department of Education has awarded a grant of nearly $2.8 million to St. Mary's University to be used to renovate several labs and classrooms and implement a more hands-on approach for STEM curriculum.
The Department of Education's Developing Hispanic-Serving Institutions Program, also known as Title V, will provide funding for the five-year St. Mary's grant.
The goal of the project, called the Course-based Undergraduate Research Experience or CURE, is to increase academic success of students, improve retention of Hispanic and first-generation students, and expand opportunities for students to obtain postsecondary credentials in science, technology, engineering and math fields.
The $2,781,826 grant will also target different areas of the curriculum in STEM courses, such as faculty development, course revision and coordinated infrastructure updates. The CURE award follows another recent grant by the National Science Foundation of nearly $1 million to increase the number of Latino students who obtain baccalaureate degrees in STEM fields.
The CURE grant's principal investigator, Gary B. Ogden, Ph.D., Professor of Biological Sciences and Associate Dean of the School of Science, Engineering and Technology, said CURE-based curricula differ from traditional science laboratory courses by allowing students to participate in authentic research projects.
"Commonly, laboratory instruction involves students going into the lab, completing a lab exercise by following a script provided to them, collecting data and leaving," Ogden said. "There often is an expectation of what results should be obtained. Instructors may even tell the students what results they should expect. This is not how lab work is practiced by professionals."
In a professional lab setting, Ogden said, "Scientists don't know in advance what results will come from their experiments. A more authentic way to instruct students is with that same mindset so in the laboratory they learn real-world skills while engaging in work that may lead to discoveries. The hope is that this curriculum will help students become better prepared and more interested in their courses as a result of lab instruction that stresses discovery."
As part of the grant, six faculty members across the disciplines of chemistry, physics and environmental science will receive lecture and lab instruction on developing, implementing and assessing the CURE curriculum. Faculty members will revise nine courses.
The grant also allows for the renovation of:
General Chemistry Lab
General Physics Lab and Modern Physics Lab
Analytical Chemistry Lab
Environmental Science Lab
Chemistry Classroom
Physics Classroom
Ogden said he expects the program to impact at least 400 students during its initial timeframe and, if successful, CURE-based courses could become implemented in more classes as well. He added some may find the courses more challenging, but the experience will help them in their career.
"It's more demanding on the students because they're asked to do more," Ogden said. "Because they're asked to do more, they should learn more by not feeling like they're a passive bystander."