June 17, 2020
In response to the coronavirus pandemic, the St. Mary's University community has adapted — faculty and staff stepping up to deliver quality education to students from a distance.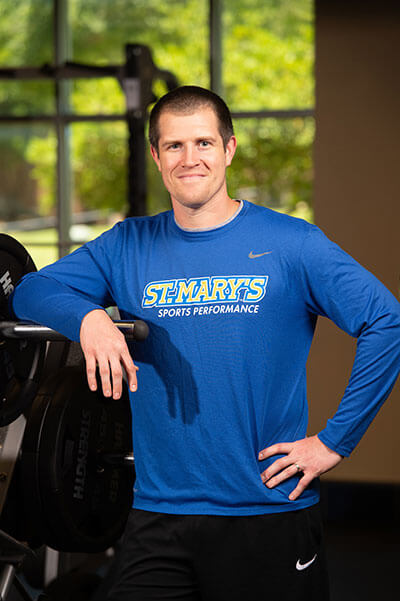 CJ Richardson, Director of Sports Performance and Fitness Center Coordinator, shared takeaways from his fitness preparation in a Q&A. Richardson joined St. Mary's in Spring 2018. He is responsible for creating and implementing year-long training plans for all student-athletes. He specializes in development of speed, strength and power, nutrition, recovery and sports psychology.
Q: What was your approach in switching to online coaching in a short period of time?
A: For our student-athletes, I felt that, even if they weren't going to be able to train with their team every day, it was still important for them to connect with their teammates on a regular basis. I know most of our coaches conducted regular Zoom (a cloud-based videoconferencing platform) meetings with their teams, but I feel that training with your teammates is a real bonding experience, and I was hoping to replicate that as much as possible. I scheduled out every team throughout the week so that at least once a week they could connect with me and their teammates. With the struggles many have experienced in mental health, I was hoping to provide some normalcy in their life. Student-athletes already struggle to maintain focus, energy and enthusiasm to train on their own in the summer, and the shutdown due to the coronavirus essentially extended summer by a few months. Motivation has been and will continue to be their biggest challenge due to uncertainty and lack of urgency related to competition.
Q: What are some new teaching methods you've picked up along the way?
A: I haven't normally included bodyweight circuits into our programming, but I think it has value and I will probably include it more in the future, even once the students return to campus.
Q: What has been your biggest area or opportunity for growth in teaching online thus far?
A: Using Zoom, I trained with our athletes, which made it hard to actually coach them on technique. Not to mention that with the way many of them had their cameras positioned, it was hard for me to see them. Because of this, I found myself being more of a motivator than usual. I think it was good for me to learn how to bring more energy, because virtually you have to be even more energetic due to the natural disconnect that's present. I can still do better, but it was a valuable experience for me.
Q: What has been most surprising?
A: I was surprised at how much I miss daily interaction with my student-athletes. I'm a natural introvert, so I figured it wouldn't be a tough transition to not be around a bunch of people every day. However, being away from them made me appreciate our time together more. I think I've taken it for granted, but I won't anymore.
Q: What has been the most beneficial experience of coaching online?
A: Overall, there is no replacement for in-person interaction, especially in athletics. However, this time has forced me out of my comfort zone and made me get more creative with my programming to keep things fresh and interesting for student-athletes.
Q: Students look to you for guidance, for wisdom, especially during times of crisis. How have you managed your own challenges and anxieties during this time?
A: A large part of my job involves personal interaction, so there's only so much I can do with my student-athletes remotely. I love the daily work of helping someone get better — and not having that left me very frustrated. I tried to do as much learning as possible to better myself during this time, but I did feel very useless at times professionally. Like a lot of people, my sense of identity ends up getting tied into my work to a large degree. After the first couple weeks, I had to stop feeling sorry for myself and show gratitude for what I did have.
First of all, unlike a lot of people, my wife and I both were able to continue working remotely and getting a paycheck. I also got to spend a lot more uninterrupted time with my family than ever before, which is a blessing. My wife and I have been together for a while and our marriage is strong, so we were able to manage the transition and be each other's support system in a lot of ways. I am especially grateful for the time with my 5-year-old son. He is growing up so fast, so getting to interact with him for extended time every day for months is something that I know I will look back on with happiness.
A huge source of strength and inspiration is my faith in God. I have used some of my additional time to really dig into the Bible and deepen the way I experience God in my life. In searching for the heart of God, I was compelled to look for areas to serve in our community, and even among our international student-athletes who were stranded here due to travel restrictions. Overall, I think whenever we can get the spotlight off ourselves and see the needs of those around us, it changes everything.
Watch the video below to learn from Richardson's recommended home workout.