January 15, 2019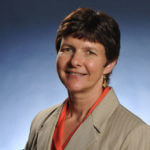 Several members of the St. Mary's University community will be honored Thursday, Jan. 24, with the 2019 Marianist Heritage Award. This year's recipients are Diane Duesterhoeft, Librarian and Professor at the Louis J. Blume Library; and Maria Smith, Minister for Pastoral Music in University Ministry.
Iliana Mallett, senior Management student, and Pilar Martinez, third-year J.D. student, also will be honored as Marianist Heritage Student Leadership recipients.
The honorees will be recognized during the Marianist Heritage Mass at 11:10 a.m. at Holy Rosary Catholic Church. To allow the University community to attend the Mass, 11:10 a.m. and 12:35 p.m. classes will be canceled.
The Marianist Heritage Award, given each year since 1981, recognizes faithfulness to our Marianist heritage. It is expressed by an interest in the 200-year development of the Marianist charism through efforts at increasing knowledge and working for its transformation into practice in the University community.
The award recognizes recipients for their support and promotion of the Catholic and Marianist educational mission and tradition at St. Mary's University.