August 14, 2019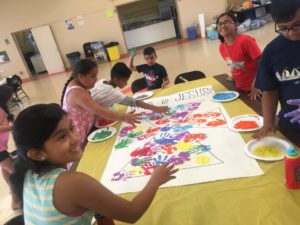 Texas First Lady Cecilia Abbott, honorary chair of the 2019 Governor's Volunteer Awards, and OneStar Foundation announced this week the recipients of the 36th annual Governor's Volunteer Awards. St. Mary's University was honored with the Higher Education Community Impact Award at the University level.
These awards honor the exemplary service of individuals, groups and organizations that have made a significant and measurable contribution to their communities through service and volunteering.
"Texans are generous by nature," Abbott said. "And I am so honored to celebrate the amazing generosity of these 10 outstanding awardees."
"By selflessly giving of their hearts and hands, their time and treasure, they have helped to make the future of Texas even brighter," Abbott said.
St. Mary's students engage in intentional relationships that reach far beyond the physical boundaries of their campus. Whether it's hosting a summer camp for neighborhood children from low-income households, providing pro bono legal services to veterans at the VA Hospital, facilitating ID recovery and warrant-relief services for individuals experiencing homelessness, navigating resources and services for individuals with intellectual disabilities, providing free tax preparation, or assisting Texans recovering from disasters, St. Mary's students are truly making a difference in San Antonio and beyond.
The awardees will be honored in the fall at an evening reception at the Texas Governor's Mansion.