March 22, 2019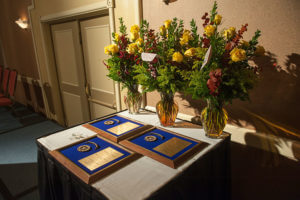 The St. Mary's University Alumni Association will honor graduates Sara E. Dysart (B.A. '74, J.D. '81), Edward Speed (B.B.A. '70, M.A. '86) and the Hon. Olin B. Strauss (B.A. '64, LL.B. '64, M.A. '82) at its annual Distinguished Alumni Dinner.
The Distinguished Alumni Awards are given each year to individuals selected by the Alumni Association's Awards and Recognition Committee.
In addition, John R. Courtney Sr. (B.A. '61, J.D. '67) will receive the President's Gateway Award for Advancement, with which the University recognizes "an individual whose exceptional leadership, success in fundraising and support of St. Mary's has resulted in advancing the University's mission, vision and culture of excellence."
The event will be held at 6 p.m. Wednesday, March 27, at the Alumni Athletics & Convocation Center's Bill Greehey Arena.
Sara E. Dysart, a board-certified commercial real estate lawyer, transferred to St. Mary's as a junior and worked to support herself throughout college. At the beginning of her senior year, her father was hospitalized and died of cancer six weeks later. Despite the adversity she faced, Dysart graduated from St. Mary's magna cum laude, and went on to become a teacher at John Jay High School. In the evenings, she attended the University of Texas at San Antonio to work on her master's degree in school counseling. She became a school counselor but still had not found her life's work. After four years, Dysart resigned to pursue her dream of going to law school. She served as Symposium Editor of the St. Mary's Law Journal, for which she focused on real estate finance. These experiences sparked an interest that resulted in a career as a commercial real estate attorney. She opened her own practice in 1990. Dysart remains dedicated to the University, from volunteering at Fiesta Oyster Bake for more than 20 years to serving on the University's Board of Trustees. In addition, she served as President of the St. Mary's Law Alumni Association in 1992. She serves as President of the School of Law's Board of Visitors.
Edward Speed, the retired CEO of Texas Dow Employees Credit Union, joined ROTC as a St. Mary's student and earned his commission in 1970. Speed was an officer in the U.S. Army's Armor Branch in the 1st Calvary and 3rd Armored Divisions. After his military service, he went into commercial real estate and banking, serving as senior vice president of lending and strategic planning at what was then called the San Antonio Federal Credit Union. In 2003, Speed moved to Lake Jackson to serve as the CEO of Texas Dow Employees Credit Union, the largest state-chartered credit union in Texas with more than $2 billion in assets. He retired in 2012. He has served on the Board of Trustees for three years, two as Chair, and has served as an adjunct faculty member teaching the St. Mary's Core Curriculum. He and his wife, Linda, have provided endowments and fellowships, along with funding the renovation of St. Louis Hall's main doors.
The Hon. Olin B. Strauss was a member of the Order of the Barons while at St. Mary's and joined the ROTC program. Upon graduating, he received a commission and served as a 1st lieutenant and captain in the U.S. Army Judge Advocate General's Corps. After his military service, the Vietnam War veteran and his family moved to Atascosa County. Strauss practiced law in Jourdanton and Pleasanton until 1985 when Gov. Mark White named him district judge of the 81st Judicial District Court, where he served until 2002. He retired as a senior district judge and continues to take assignments as a visiting judge. Gov. Ann Richards also appointed him as presiding judge for the Fourth Administrative Judicial Region of Texas and appointed him to the Texas Judicial Council.
John R. Courtney Sr. is an attorney and former CEO of Springfield Trust & Investment Company. His law practice specializes in estate planning, trust law and tax-efficient investments. Courtney's generosity places him in the St. Mary's University Legacy Society. He joined the Sigma Beta Chi Fraternity and participated in ROTC while at St. Mary's, and his son Jay is a 1994 St. Mary's School of Law graduate. In 1991, Courtney founded Springfield Trust & Investment Company as well as the Courtney Law Firm. He served as chairman and CEO of Springfield Trust until 2009, when the company was acquired by Central Trust & Investment Company. Courtney remained with the company as a member of Central Trust's Advisory Board. At the time of the acquisition, Springfield Trust had $600 million in managed assets. In 2014, Courtney Law was sold to Douglas, Haun & Heidemann PC of Bolivar, Missouri. In 2014, Courtney was honored by the Missouri Bar as a Senior Counselor.