May 17, 2019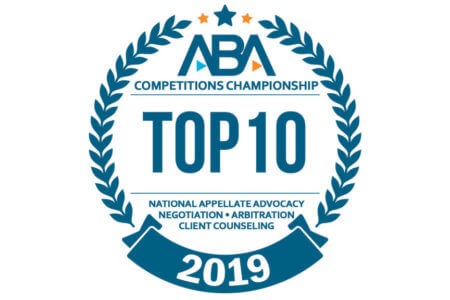 The St. Mary's University School of Law advocacy program has been ranked fifth in the nation by the American Bar Association for 2019.
"The ABA Competitions Champion award was created to recognize law schools that go above and beyond to help prepare their students for practice. Success in these competitions illustrate each school's commitment to providing a well-rounded curriculum and preparing students to become highly skilled lawyers," the ABA states on their website.
"It's not just an accomplishment for the program. This was made possible by a tremendous number of gifted people: our students, coaches, faculty and Dean Stephen M. Sheppard," said A.J. Bellido de Luna, J.D., Hardy Director of Advocacy and Service Professor of Law.
Earlier this year, St. Mary's Law was also ranked in the top 25 percent of advocacy programs by U.S. News & World Report.
"Our goal is to consistently be ranked among the best programs in the country," Bellido de Luna said.