April 17, 2018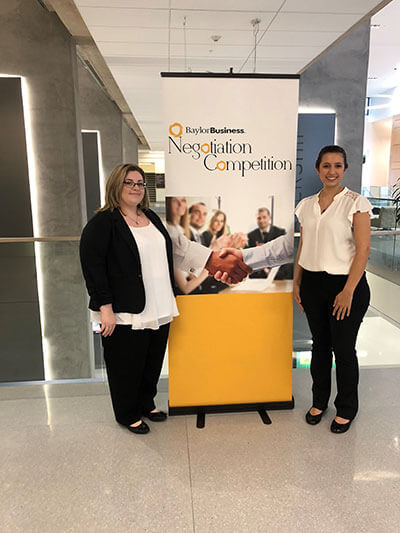 St. Mary's senior Management majors Allison Surginer and Samantha Ramos finished in third place at the annual Baylor Business Negotiation Competition at Baylor University on April 6, 2018.
The competition was for undergraduate business majors and featured 14 competing schools, including Babson College, West Virginia University, TCU and the University of Arizona. There was also international turnout with McGill University from Canada and the SolBridge International School of Business from South Korea participating.
"We were able to use our knowledge of negotiation and conflict resolution to prepare for the two cases we were given two weeks before competing," Surginer said. "We talked about what the other teams' position might be, what our goals were for our team and what kinds of questions we could use to pull information from."
Stephanie Ward, Ph.D., Chair and Professor of Management, guided Surginer and Ramos in developing tactics and strategies.
At the competition, Surginer and Ramos negotiated against two different teams composed of two people in front of a panel of judges. Each round consisted of 35 minutes of negotiation role play, 10 minutes of judge deliberation and 15 minutes of judge critiques.
"The experience was at first a bit intimidating, but overall it was entirely exciting," Ramos said. "I thought it was invaluable to have professionals watch how I negotiate and my tendencies in the way I talk and move, and for them to help me be a more effective negotiator."
On the car ride back to St. Mary's, Surginer said she and Ramos reflected on the experience.
"We found it amplified our understanding of negotiation by giving us real-world scenarios to act out with people we were unfamiliar with," she said. "Negotiation and conflict is ever-present in our daily lives, and it's an important skill to have."
"This is a phenomenal achievement," said Tanuja Singh, D.B.A., Dean of the Greehey School of Business. "I'm so very proud of our students."