March 19, 2018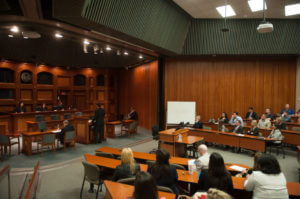 The Fourth Court of Appeals will hold arguments for a single appeal at the St. Mary's University School of Law courtroom beginning at 9 a.m. on Thursday, March 29.
The Fourth Court handles appeals for both civil and criminal cases in 32 counties of Texas and is comprised of seven justices, five of whom are St. Mary's alumni – Chief Justice Sandee Bryan Marion (J.D. '80) and Justices Karen Angelini (J.D. '79), Marialyn Barnard (J.D. '92), Luz Elena D. Chapa (J.D. '99) and Irene Rios (J.D. '90).
The court will hear arguments for the following case:
Travis Crow, Britt A. Crow, Laurian Crow Edison and Karen A. Kraft v. Heddie Knappick Lockadoo, Lisa Knappick Lucas, Mary Brown, Margaret Brown Nugent, Charles Brown, Joseph Gallagher, Josephine Brown Noll, Pamela Gallagher Palmer and Irene B. Zoeller.
The appeal will be heard before Justices Barnard, Rios and Patricia O. Alvarez, J.D. This event is open to the public. Visitors can enter campus through the NW 36th Street entrance and park in Lot D.
This appeal pertains to a land transaction in La Salle County.
The appellants are appealing the trial court's order denying their motions for summary judgment and granting the appellees' motions for summary judgment. The appeal is based on the following issues: first, the trial court erred by granting summary judgment for appellees because the Stipulation of Interest limited the duration of the appellees' interest in the property; second, the trial court improperly relied upon a Correction Deed to determine the predecessor-in-title to the appellees reserved a mineral interest not previously reserved; third, the trial court incorrectly characterized the interest reserved by appellee-Zoeller and her deceased husband in the Assumption Deed, resulting in the rendition of an improper judgment; fourth, appellants presented more than a scintilla of evidence on their claims and established their claims as a matter of law.