April 11, 2017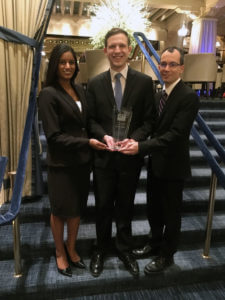 "St Mary's has prided itself on its strong advocacy programs and outstanding moot court teams. This win adds an exclamation point to that reputation," said David A. Schlueter, J.D., Hardy Professor of Law and Director of Advocacy Programs at St. Mary's.
Winnowed from more than a hundred teams across the country, the final competition held April 6-8 in Chicago including representatives from Georgetown University Law Center, Vanderbilt University Law School, William & Mary Law School, University of the Pacific's McGeorge School of Law, Stetson University College of Law and University of Oklahoma College of Law, among others.
After the hundreds of hours of preparation, the St. Mary's Law External Advocacy Program (EAP) moot court team of third-year law student William "Billy" Calve of Dickinson, third-year law student Devin deBruyn of San Antonio and second-year law student Sophia George of Sugarland won every round of the national championship.
"Defending the national championship my teammates and I won last year in Chicago will go down as one of the most unforgettable experiences of my legal education," Calve said. "St. Mary's is an exceptional place for anyone who wants to learn advocacy, and I am honored to have been part of that tradition."
Considered by many to be the most prestigious moot court competition in the country, the event measured the oral advocacy skills of law student teams from across the nation by simulating an appeal experience before the United States Supreme Court. Students write a brief, then argue their case before a mock court in the Everett M. Dirksen U.S. Courthouse.
It is the third time a St. Mary's Law team has won the national championship in the past 15 years.
"Winning the ABA NAAC once is an amazing feat for any law school; but winning this competition for a third time – and the second time in two years – is nearly unprecedented," said St. Mary's moot court coach Ricky J. Poole, J.D. "Every team St. Mary's met in this competition was gunning to bring down the national champion. But, Billy, Sophia and Devin were up to the test. All three students displayed incredible skill and poise in their quest for this championship."
Competition judges also recognized deBruyn with crafting the fifth-best brief in the nation.
"Coach Poole has always believed in me and he has taught me so much about being a lawyer," deBruyn said. "My moot court experiences have been invaluable in informing my future career plans, and I hope to pursue appellate law after graduation."
George also attributed her advances in advocacy skills to Poole's guidance.
"Thanks to Coach Poole, my advocacy skills, my ability to analyze arguments and my ability to answer complex questions on the spot have all tremendously improved," George said. "I am so honored that I get to work alongside such incredible student advocates. I look forward to seeing what the next year will hold for our team!"