September 18, 2017
Board of Trustees' decision unanimous; first five years seen as success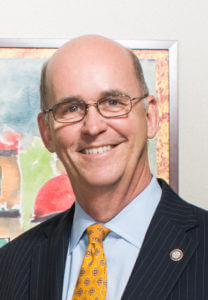 President Thomas M. Mengler, J.D., was unanimously reappointed to another term as President of St. Mary's University by the Board of Trustees on Friday, Sept. 8.
"Since his appointment in 2012, President Mengler has worked consistently to distinguish St. Mary's as The Catholic and Marianist University and to achieve our Gateway vision to become one of the finest private universities in the Southwest," said Martin D. Beirne, Chairman of the Board of Trustees. "I am excited to say the Board of Trustees sees his commitment to promoting the Marianist mission of faith and building a culture of excellence is already positioning St. Mary's to attain that vision."
Some defining moments during Mengler's first five years include:
Closing the 2017 fiscal year at a historic high, raising more than $30 million in gifts and pledges.
Establishing the Center for Catholic Studies, which will be a key to becoming a leading university examining the world through the lens of Catholic faith.
Securing endowments for eight academic positions – three chairs, three professorships and two program directors.
Renovating labs with state-of-the-art equipment for programs in the School of Science, Engineering and Technology.
Implementing new strategies in recruitment and retention, which are already attracting quality academic students and meeting enrollment goals.
Transforming the Career Services program, encouraging students to think about a career as a vocation for advancing their personal and professional lives.
Adding campus gathering spaces that promote community, such as The Pub and amenity-rich Périgueux Hall to encourage juniors and seniors to live on campus.
Partnering with the Archdiocese of San Antonio, including its newest collaboration with Holy Rosary Church to engage students.
"What we've accomplished the past five years are the result of the dedication and commitment of our faculty, staff and leadership," Mengler said. "And none of this would be possible without the support of my wife, Mona, who is active in organizing many events for the University and for Catholic Charities."
Beirne said fellow trustees and other members of the campus community recently participated in a comprehensive assessment of Mengler. He said the group noted Mengler's exemplary leadership and vision for the future of Catholic higher education.