October 31, 2017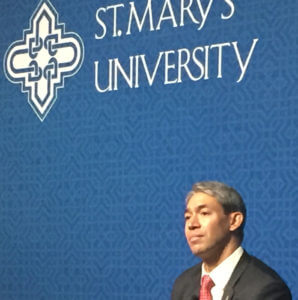 St. Mary's University will welcome San Antonio Mayor Ron Nirenberg on Tuesday, Nov. 7, as its fall Community Conversations guest speaker.
Longtime local journalist Rick Casey will serve as moderator. He and Nirenberg will discuss the mayor's vision for San Antonio's future as a city striving to achieve district equity, environmental quality, housing access and affordability, and various local control issues – including taxes, annexation, equality before the law, and local law enforcement's role in immigration.
There will be a reception at 6 p.m., with the program beginning at 6:30. Afterward, there will be a question and answer session with the audience. Community Conversations will be held on the St. Mary's campus in the University Center, Conference Room A. The event is free and open to the public.
The Community Conversations series is a part of the Institute for Public Administration, Politics and Public Policy at St. Mary's University, which is housed within the St. Mary's Graduate Program in the School of Humanities and Social Sciences. One of the primary goals of the Institute is to develop outreach programs that foster dialogue between the University, the public, government agencies and nonprofits to address important public issues.