October 12, 2016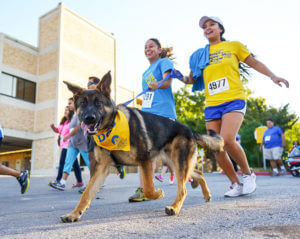 University community, local runners, dogs invited
This year, proceeds will go to the Society of St. Vincent De Paul, one of the oldest charities in South Texas. It has been assisting the under-served – "without regard to race, creed, gender, marital status, national origin, age or physical handicap" – since 1871. Funds will be funneled into its services that benefit the West Side.
"Not only are you signing up for a fun community event," University President Thomas Mengler said, "but you're also actively helping people in our community by participating. It's a win-win."
Members of the community surrounding St. Mary's are welcome to participate, and they are invited to bring their spayed or neutered, leashed, dogs to join them. The University has partnered with SNIPSA and will offer information about spay-neuter services.
The StMU 5K is part of an ongoing effort to enhance quality of life through neighborhood revitalization. St. Mary's strives to be a vital partner in promoting the health and wellness, education and safety of the Gateway District community.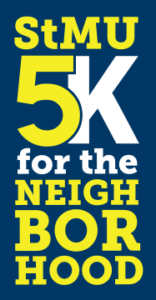 Last year, more than 500 attended the run, which benefited The Neighborhood Place, a facility that provides a network of educational, recreational and supportive services for families and residents of all ages in surrounding areas. The inaugural StMU 5K benefited local United Way agencies and SNIPSA.
The St. Mary's University Neighborhood Revitalization Project was established in 2007. Together with neighbors, business proprietors and the City of San Antonio, the University has focused on commercial transformation, housing rehabilitation, education, and infrastructure and quality-of-life improvements. There are new pocket parks, street signs, bus stops, bike lanes, crosswalks and trees; improved sidewalks, streets, and business facades; and new construction of homes and a multifamily apartment complex.
The StMU 5K is sponsored by Ryan Companies US Inc., Wal-Mart, Lisa's Mexican Restaurant, Aramark, State Rep. Justin Rodriguez, and Keller-Martin Construction Inc.
StMU 5K for the Neighborhood
Who: St. Mary's University community and friends
When: Sunday, Oct. 23, 2016. Opening remarks at 8:45. 5K begins at 9 a.m.
Where: St. Mary's University campus. Start/finish at Pecan Grove
Why: Raise funds for Society of St. Vincent De Paul and raise awareness of spay-neuter programs
Registration: Online or on race day at 7:30-8:45 a.m. in the University's Pecan Grove
Parking: In front of campus in Lots V and S or at the back of campus in Lot D
Catholic Mass: 7:30-8:15 a.m. in Guadalupe Chapel, Treadaway Hall, near Pecan Grove; all are welcome
Amenities: Food, beverages and music before and after the 5K. Awards ceremony at 10 a.m.
Packet Pickup: Bibs, timers and T-shirts may be picked up at these locations:
iRun Texas-Bitters
2602 NW Loop 1604
Building 1, Suite 106
San Antonio, TX 78248
Wednesday, Oct. 19, 10 a.m.-7 p.m.
Mary's University Alumni Athletics & Convocation Center
Thursday, Oct. 20, 1-7 p.m.
Friday, Oct. 21, 1-7 p.m.
Pecan Grove
Sunday, Oct. 23, 7:30-8:45 a.m.