November 7, 2016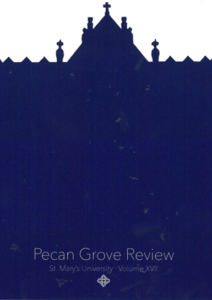 St. Mary's University's Department of English and Communications Studies will unveil its literary magazine, Pecan Grove Review XVII, at The Twig Book Shop on Wednesday, Nov. 16.
The Pecan Grove Review now offers St. Mary's alumni the opportunity to submit their written works. Including former students offers them the chance to continue fostering their creativity and to reconnect with their alma mater.
The 6 p.m. event is free and open to the public. Students, faculty, staff and alumni will read their submissions from the newest edition of the magazine, originally released in 1993. Refreshments will be served.
The student-produced Pecan Grove Review is under the leadership of faculty adviser Refugio "Ito" Romo, Ph.D., Associate Professor of English and Communication Studies. Students, faculty, staff, and alumni submit pieces to the magazine for consideration of publication.
"At St. Mary's, we foster a liberal arts education in which we celebrate the importance of creativity within the educational experience, enhancing the formation of the well-rounded individual," said Romo, himself an accomplished creative writer and author. "The Pecan Grove Review is just one of the many forms in which creativity is expressed on our campus. I am inspired daily by the dedicated students who work diligently on the Pecan Grove Review and by the students, faculty, staff, and now alumni, who submit amazing literary work."