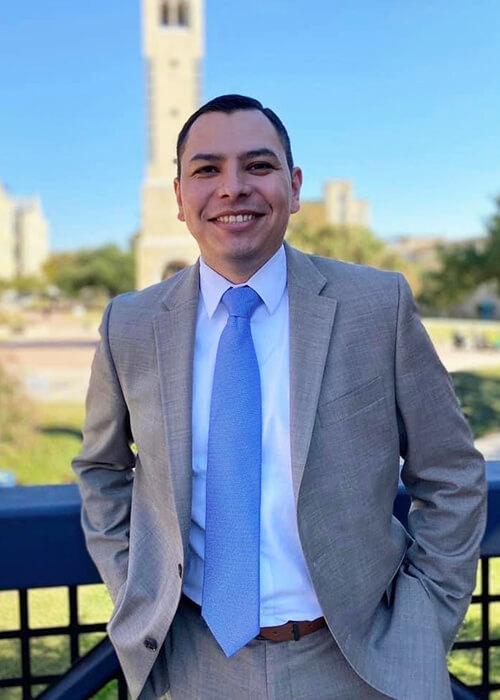 Title: Dean of Undergraduate Admission
Alma mater: Texas Tech University (B.A. in Political Science and Sociology) and St. Mary's University (MBA)
Hometown: Fort Stockton, Texas
Favorite spot on campus: The University Center (UC)
Favorite place in San Antonio: The King William Historic District
What is your advice to students going through the college search process?
Be sure to visit and connect with each university you are interested in. Each university should have an assigned Admission Counselor who can help walk you through the enrollment process. Utilize every resource at your disposal and never have any unanswered questions. You are about to make one of your biggest investments in life, so make sure you have all the information you need to make a sound decision.
What is your favorite St. Mary's tradition?
Fiesta Oyster Bake is my favorite St. Mary's tradition! Fiesta Oyster Bake is an official Fiesta San Antonio event sponsored by the St. Mary's University Alumni Association. The event is a food and entertainment festival with live music and great food! Oyster Bake is a true testament to the StMU family coming together to raise money for student scholarships. More than 7,000 volunteers are needed for this event as Oyster Bake attracts more than 60,000 patrons to visit our campus!
What was your favorite part of attending St. Mary's?
The spirit of community and family that brings everyone together is my favorite part of St. Mary's. Being raised in a small West Texas town, I always grew up with a sense of family, friends and community — St. Mary's captures this same experience and truly shows what it means to be a part of a family.
What is your favorite place to eat off campus?
It's a San Antonio staple — Bill Miller Bar-B-Q!
What would you tell someone considering moving to San Antonio? 
San Antonio is the "biggest small town" you will ever experience! While SA sits as the 7th largest city in the country, you can get just about anywhere in about 25 minutes depending on traffic. You get to experience all the joys of big-city living while still having that small-town feel.