Army ROTC at St. Mary's
Army ROTC
is a college elective that focuses on leadership and management training. St. Mary's Army ROTC offers students the opportunity to learn and grow in a variety of ways. The program of instruction challenges each cadet in the battalion in both indoor and outdoor settings; cadets participate in classroom instruction while also engaging in world-class physical fitness training, land navigation, marksmanship, rappelling and other military activities. Cadets learn management and leadership skills not available in other University programs.
Army ROTC experience contributes to a variety of job skills applicable to any profession, career or job while instilling in each cadet a sense of confidence, discipline, and personal responsibility. Moreover, each cadet gains the satisfaction of being part of a select group of great Americans dedicated to American values and service to the nation.
There are many routes you can take to commission as a second lieutenant through Army ROTC. You can enter our program as a freshman, sophomore or once you have at least two years remaining at St. Mary's as an undergrad or graduate student.
There is also a Simultaneous Membership Program for those who are currently serving in the National Guard or Army Reserves as enlisted soldiers and wish to become officers.
The St. Mary's Army ROTC program is a great place to start either for a few years or a full career in uniform, but whatever you do, Army ROTC will teach you leadership excellence for a lifetime.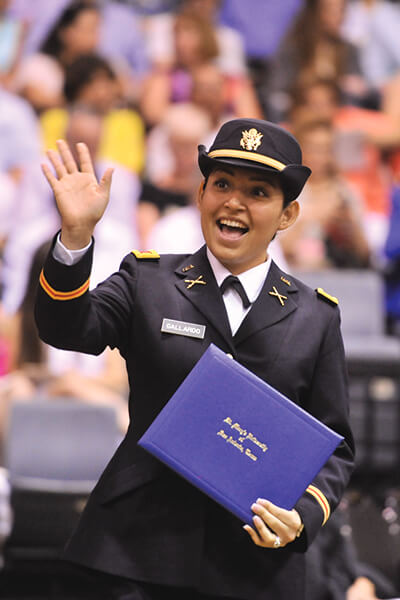 Explore degree programs at St. Mary's
Interested in supporting the St. Mary's ROTC program? Click below, select that your contribution be directed to "Other," and then enter ROTC in the box that appears.
Support ROTC
---
What is ROTC?
You've heard of it. You know it has something to do with going to college and being in the Army. But what do you really know about Army ROTC?
Want to learn more about the program that more than 40,000 students made a part of their total college experience last year? Let's start with the basics.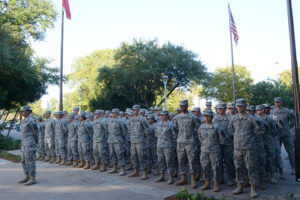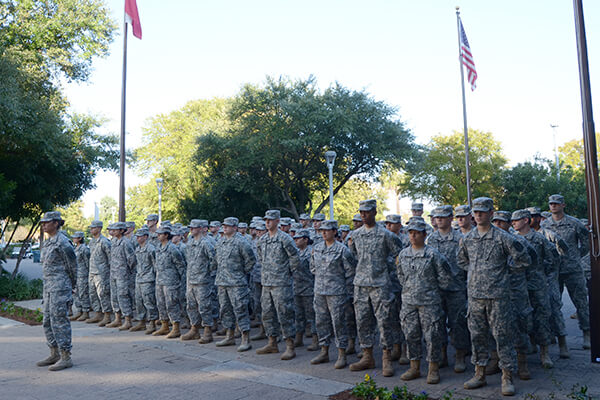 Reserve Officer Training Corps., or ROTC, combines courses in military science with summer training sessions to turn college students into top-quality Army officers. The classes are available at hundreds of colleges and universities throughout the nation. ROTC is a college elective course — not an academic course load. Overall, ROTC classes normally occupy about four hours a week, leaving plenty of time for other classes and an active social life.
For most ROTC students, called cadets, it takes a total of four years to complete ROTC. During the Basic Course, the first two years of ROTC, cadets tackle subjects like military history, first aid and customs of the Army. There is a constant emphasis on leadership development.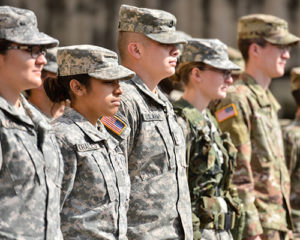 While enrolled in the Basic Course, cadets normally do not have to make a commitment to serve in the Army. The final two years of ROTC, called the Advanced Course, is the first point at which most cadets must make a commitment to serve. In both the Basic and Advanced Course, uniforms, textbooks and all required items of equipment are furnished at no extra cost. Additionally, there are merit-based scholarships available. These scholarships can go a long way towards financing the cost of getting a college education.
For students who did not take ROTC during their first two years of college, a compressed version of the Basic Course is available each summer. This 29-day training session, called Leader's Training Course (LTC), gives students a condensed version of the subjects normally taught on campus during the first two years of ROTC. While in attendance at LTC, students receive a salary, the full cost of their housing, transportation and meals provided by the Army.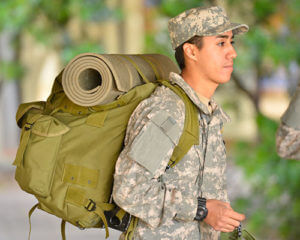 It is important to note that students have no obligation to serve in the Army just because they decide to attend LTC. But successful completion of LTC does give students the skills and credentials necessary for enrollment in the Advanced Course.
To ensure that they become well-rounded leaders, cadets in the Advanced Course study subjects as diverse as math reasoning and human behavior. Practical experience at supervising others is gained at weekly training sessions called Leadership Labs. They gain insight into the multi-faceted challenges of leadership through a detailed study of military history and prepare themselves for the future with courses in computer literacy.
Pulling together all the elements they've learned, cadets attend a Leader Development and Assessment Course (LDAC), for a 29-day summer session between their junior and senior years. The training is tough and the hours are long at LDAC but, with its completion, cadets move ever closer to their goal of becoming Army officers.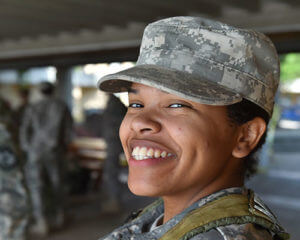 The reward for all the hard work comes on graduation day — when cadets leave their alma mater as second lieutenants in the U.S. Army. Many of these newly commissioned officers will immediately begin service in the Army. Others will fulfill their military obligation as citizen-soldiers, through service in the Army National Guard or the Army Reserve.
Although ROTC is a military-oriented program, the value of its training is recognized by business leaders. Studies have shown that ROTC graduates have a definite advantage when seeking employment in the civilian sector of the economy.
"It puts young men and women on a fast track faster, building their confidence early, developing their management skills early, and testing their leadership abilities early," said D.M. Reid, senior vice president of Xerox Corp.
Army ROTC is a training ground for tomorrow's leaders.
---
Cross Enrollment Program
Through cross-enrollment agreements students in the following San Antonio Area colleges and universities can participate fully in the St. Mary's ROTC program:
University of the Incarnate Word
Our Lady of the Lake University
Texas A&M-San Antonio
Trinity University
Palo Alto College
St. Phillip's College
These cross-enrollment agreements allow the benefits of the ROTC curriculum and scholarship opportunities to be extended to students of these institutions.
Students from colleges that are members of the Alamo Colleges system generally may take an introductory ROTC course free of charge. These students are also encouraged to seek ROTC scholarships as an additional way to afford tuition in one of the San Antonio universities offering ROTC through St. Mary's University.
---
Contact Us
ROTC Military Science
St. Mary's University
210-436-3415
Fax: 210-431-6885
rotc@stmarytx.edu