Related Pages
Ready to meet with one of our career counselors? Call us at 210-436-3102, or schedule an appointment via Handshake.
Explore Your Potential
The STRIVE Career Center is committed to helping you find a vocation that aligns with your personal values and educational background. At St. Mary's University, we prepare you for more than just a career; we prepare you for your life's work that is your true calling.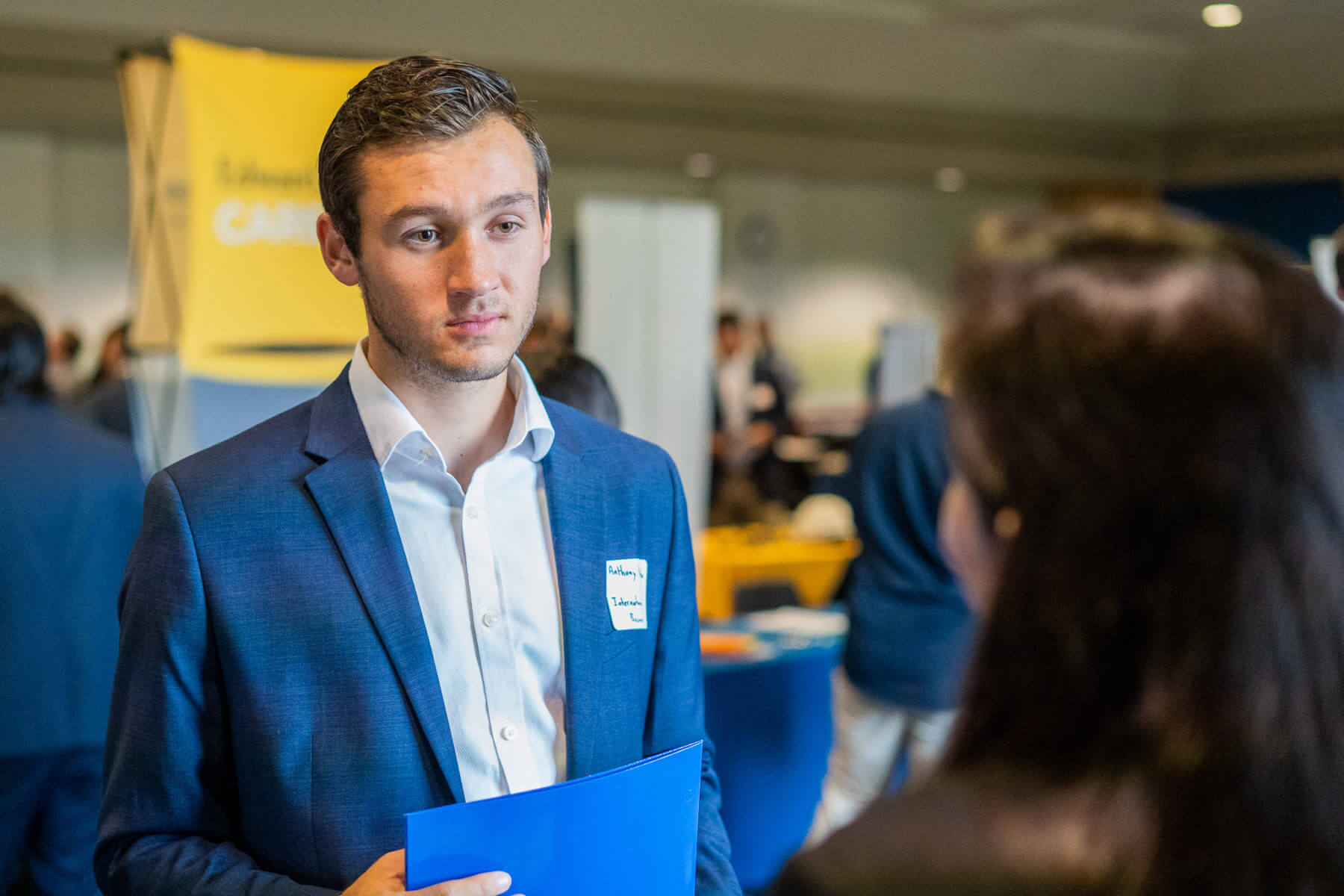 Through our services, STRIVE develops you into a potential candidate for employers because of the rigor of your academics at St. Mary's, the relationships STRIVE builds with internal and external employers, and the relevance of your education and professional development as transferrable skills in the workforce.
We believe your career journey leads you to the intersection at which your Mission, Passion, Vocation and Profession overlap.
Student Resources
The STRIVE Career Center offers multiple programs and software to help students hone their interests, knowledge and skills and guide them along their career path, including:
Handshake is a job platform that allows users to do more than just apply to jobs. It features peer-to-peer feedback on jobs and internships, appointment scheduling and personalized job recommendations.

PathwayU is an education and planning platform that guides students to degree completion and career paths. The program allows students to discover their purpose and passion, explore education and career paths, and connect them with opportunities that resonate with them.

Pathways to Success is a Canvas course that helps students discover their gifts, passions, interests, values and skills. Pathways offers students a chance to explore and compare traits and skills with local companies, build skills through video workshops, and develop or sharpen résumés through a résumé-writing program.

Assess and develop your soft skills, core strengths and areas for improvement with the Am I Job Ready? platform. Through assessment tests and interactive videos, you can develop proficiency in 16 soft skills, including flexibility and decision making, and earn badges along the way

Résumé Target is a student résumé service that helps you identify your transferable skills, knowledge and practical experience and develop them on paper. Review sample résumés and get one-on-one assistance to show your future employer your understanding of your chosen field.

Candid Career offers an extensive library of career videos for students seeking career guidance. Watch thousands of videos featuring industry professionals offering insight and in-depth knowledge of their jobs and journeys from college to career.
Student Services
The STRIVE Career Center offers students career counseling, workshops, résumé review, job and internship fairs and more.
Throughout the academic year, STRIVE invites local and national organizations to sponsor information tables in popular student areas around campus. Chat with a representative to learn about the organization and available positions, or bring your résumé by for collection.

The STRIVE Career Center sponsors and co-sponsors several job, internship and professional school fairs, both general and industry-specific, throughout the academic year. Meet with representatives from local and national companies for on-the-spot interviews and receive insight on available positions.

STRIVE has trained staff members and students available to provide assistance for the creation and revision of résumés. Schedule an appointment with a counselor, graduate assistant or student peer advisor to review your résumé and check for formatting, content and relevancy.

Interview with a potential employer right here on campus. After you've submitted your résumé to an organization on Handshake, we can assist with setting up an on-campus interview.

Got a big interview coming up? Graduating soon? Schedule an interview prep session or mock interview with one of our career counselors to ensure you're prepared.

Looking for career advice? Schedule an appointment with one of our full-time career counselors or graduate assistants to discuss career and major exploration, finding a job or internship, interviewing, and more.
Special Events
Meet face-to-face with alumni and recruiter partners and receive feedback on your résumé.

Network with hiring managers and recruiters to learn networking and job-search techniques, as well as available jobs and internships.

Open to graduating seniors, the Senior Scramble offers seniors an opportunity to find and land a full-time job before graduation.
Top Companies for Full-Time Employment
USAA
H-E-B
Frost Bank
Google
Union Pacific
Idea Public Schools
Liberty Mutual
Macy's
ProScribe
SWBC
Top Companies for Internships
USAA
VA Hospital
City of San Antonio
SWBC
Bloomberg
Frost Bank
Google
Labatt Food Service
Union Pacific
Northwestern Mutual
Visit Us
STRIVE Career Center
St. Mary's University
University Center, First Floor
Office Hours
Monday through Friday
8 a.m. to 5 p.m.
Employers, looking to hire?
Find out how you can recruit Rattler talent.