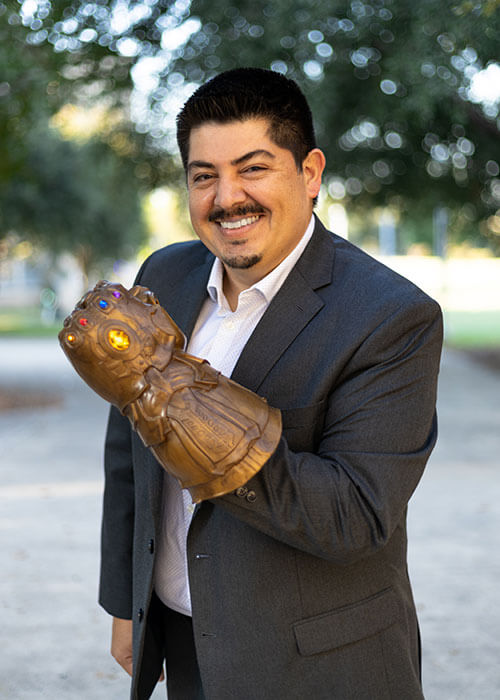 Title: Director of Undergraduate Admission
Alma mater: Lamar University
Favorite spot on campus: My office! (It's where I can do the most to help future Rattlers.)
Favorite place in San Antonio: The Leon Creek Greenway
What is your advice to students on their college search?
Don't ever doubt that you deserve the chance to go to college and get a degree. I know sometimes it can feel like a steep climb, and there's lots of reasons to want to give up sometimes, but getting your degree can change the trajectory of your life and that of your family. We believe in you!
What is your favorite place to eat off campus?
I was a terrible student in high school. I didn't even start college until I was 21. But I was determined to try. Thankfully, there were a lot of people along the way that extended grace and help so that I could find my way. I am where I am in life because people believed in me and wanted to see me get an education. It's my duty to now try and be that for the next generation of students.
What is the most interesting place you've traveled?
Banff, Canada. Getting to hike in the Canadian Rocky Mountains was an incredible experience!
What are some causes you care about?
Social justice, racial equity, and helping students from marginalized backgrounds make their way to and through college.
What would your personal motto be?
"If you want to go fast, go alone. If you want to go far, go together."
What would you tell someone considering moving to San Antonio?
I've lived in big cities and small towns before, and San Antonio is by far the best place I've ever lived. While being the 7th biggest city in the country, it doesn't often feel like it. It has most everything one could want in a big city, but the pace of life (and lack of traffic) are much better than other big cities. It has a rich culture, strong identity, and the people are incredibly warm and welcoming.