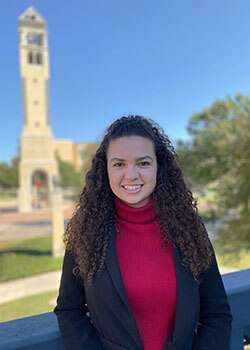 Title: Admission Counselor
Alma mater: St. Mary's University
St. Mary's University is a small university comprised of people who genuinely care about you and your success. The welcoming and tight-knit community helps you build lifelong relationships and become a leader in our community.
What is your favorite St. Mary's tradition?
Homecoming Oyster Bake, or as we like to call it around campus, "Baby Bake."
What is your favorite place to eat off campus?
What is the most interesting place you've traveled?
The most interesting place I've visited is definitely Australia.
What's the best concert you ever attended?
That would definitely be Post Malone.
Northeast ISD    
Austin and the Central Texas region 
Waco, Temple and Killeen
Boerne ISD   
The Geneva School of Boerne
Kerrville    
San Marcos   

Schertz, Cibolo and Universal City
NSITE/Business Careers High School 
Austin Community College
Greehey School of Business liaison  
Greehey Scholars Program liaison  
Dean's Scholars Program liaison