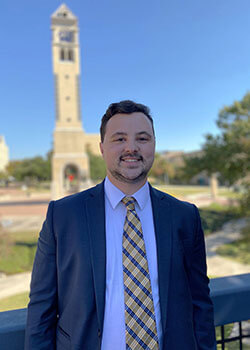 Title: Admission Counselor
Alma mater: St. Edward's University
Hometown: Guilford, Connecticut
St. Mary's is one of the only places where you can find a combination of brilliant academics, a commitment to service and a real family spirit in one of the best cities in the country.
What I love about St. Mary's
The great people I get to work with every day who make this community as special as it is!
What I love about San Antonio
I love how easy it is to find all different types of good food.
One piece of advice for future Rattlers
Get involved! Join a club, join a team, volunteer, find your community outside of the classroom and you will be more successful inside the classroom.
What is your favorite place to eat off campus?
My favorite place would have to be Lisa's Mexican Restaurant, just a few blocks away.
Bailey, a four-year-old Golden Retriever.
What would you do if you won the lottery?
Pay off my family's student loans and my parents' mortgage. Then buy a pro soccer team and go to all the games for free.
What's your guilty pleasure?
What would your personal motto be?
A strong heart and a strong mind are a formidable combination.

Nelson Mandela
What's the best concert you ever attended?
Athletics   
Dallas/Fort Worth Metroplex 
Red River area
East Texas   
Dallas and Fort Worth Community Colleges 

Northside ISD
BASIS
The Winston School
Great Hearts Academy
San Antonio College