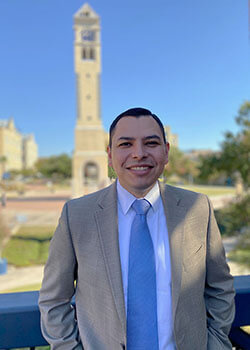 Title: Associate Director of Undergraduate Admission
Alma mater: Texas Tech University
Hometown: Fort Stockton, Texas
Favorite spot on campus: The Pub at St. Mary's
The spirit of community and family that brings everyone together is my favorite part of St. Mary's. Being raised in a small West Texas town, I grew up with a sense of family, friends and community — St. Mary's captures this same experience and truly shows what it means to be a part of a family.
What I love about St. Mary's
Fiesta Oyster Bake is my favorite St .Mary's tradition! Fiesta Oyster Bake is an official Fiesta event sponsored by the St. Mary's University Alumni Association. Fiesta Oyster Bake is a true testament to the St. Mary's family coming together to raise money for student scholarships and university/alumni programs. More than 7,000 volunteers are needed for this event as Fiesta Oyster Bake attracts more than 60,000 patrons to our campus.
What I love about San Antonio
San Antonio is the "biggest small town" you will ever experience. Despite being the seventh-largest city in the country, you can get just about anywhere in about 25 minutes depending on traffic. You get to experience all the joys of big city living while still having that small-town feel. 
One piece of advice for future Rattlers
Use every resource at your disposal and never have any unanswered questions. You are about to make one of the biggest investments of your life so make sure you have all the information needed to make a sound decision.
What did you want to be when you were a kid?
Growing up in West Texas, we had many thunderstorms. I originally wanted to be a storm chaser as a kid. In high school, I had an internship with the District Attorney's office then decided I wanted to be an attorney. While in college I had the opportunity to work at our university's Student ID Office and worked as a student ambassador which pushed me into higher education – I have worked in higher education for more than nine years and love it.
What was your favorite part of attending St. Mary's?
One of my favorite things to share about my experience at St. Mary's is that not only am I a full-time staff member, I am also a graduate student pursuing my Master of Business Administration (MBA).
Amarillo, Panhandle and South Plains
Midland, Odessa and Trans Pecos Region
Abilene and San Angelo
Alamo Heights ISD
Travis Early College High School
San Antonio parochial and private schools

Young Women's Leadership Academy
Colorado
Florida
All out-of-state markets except Illinois; St. Louis, Missouri; California; and New Mexico