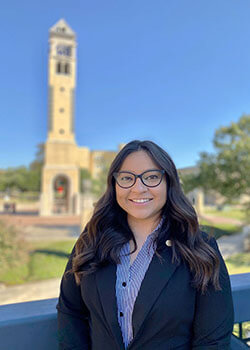 Title: Admission Counselor
Alma mater: St. Olaf College 
What I love about St. Mary's
St. Mary's educates students to be ethical and servant leaders of their community. Through a well-rounded education, Rattlers graduate ready to make an impactful change for the betterment of the entire world.
One piece of advice for future Rattlers
Visit campus and, if possible, spend the night on campus. When you can experience the life of a current student, you can begin to see yourself as part of the community.
What is your favorite St. Mary's tradition?
I have a four-year-old tripod dog named Sir Alaric.
What is the most interesting place you've traveled?
What's the best concert you ever attended?
What would your personal motto be?
Life goes on…give it 24 hours.
Freshman and transfer counselor
Houston
Gulf Coast, Wharton and Victoria Counties
Beaumont and Port Arthur
Brazos and Trinity Valley
Galveston and East Harris County

Houston Community Colleges
Lone Star Community Colleges
Palo Alto College
KIPP Public Schools
IDEA Public Schools