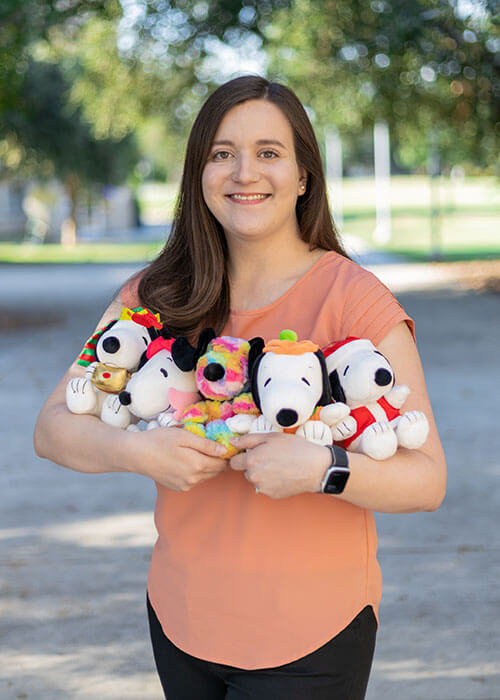 Title: Admission Counselor
Alma mater: St. Mary's University
Hometown: Ciudad Juarez/El Paso, TX
Favorite spot on campus: Guadalupe Chapel
Favorite place in San Antonio: The Rim 
What was your favorite part of attending St. Mary's?
My favorite part about attending St. Mary's was the Marianist education I received. The Marianist charism has become a lifestyle for me and has influenced me to be more welcoming through the virtues of compassion, love and kindness.
What is your favorite St. Mary's tradition?
My favorite tradition at St. Mary's is Homecoming Oyster Bake or "Baby Bake". I love this tradition because it brings the St. Mary's family together to have a fun gathering that starts with attending Holy Mass and is followed by reconnecting with current and old friendships that began at St. Mary's. The unique foods like chicken on a stick, oyster shots and fried cheesecake make it a delicious experience to look forward to every year. The best part about this event is that it is exclusively for the St. Mary's family: alumni, current students, faculty and staff.
Describe your most meaningful memory with a Marianist brother.
Brother Ralph Neumann, S.M., was an angel from God. He recently passed, but I always have him on my mind and in my heart. I met Brother Ralph at the Marianist Residence on a Thursday when I went to have lunch. I try to go to the residence to visit with our Marianist brothers frequently. Brother Ralph was always happy to see me and I loved having conversations with him. My favorite memory was when he asked me to help push him to his room on his wheelchair, which made me feel trusted by him. As I quickly glanced around his room, I got a deeper appreciation for his spirituality and devotion to the Marianist mission.
What is your favorite place to eat off campus?
Taco Tote is my favorite because it has one of my favorite foods, authentic Mexican tacos. Taco Tote also originated in Ciudad Juarez, a border town with El Paso. I was born in Ciudad Juarez and what I miss the most, apart from my family, is the food. When Taco Tote opened in San Antonio, I was happy to have a small piece of home here.
Do you have any pets? If so, what kind and their names?
Yes! I have a Wire Fox Terrier. His name is Simba and he brings so much joy to my life.
What is your advice to students on their college search?
My advice is to seek a quality education that will present you with opportunities to grow in your area of study, but also look for a home away from home; somewhere that you feel a sense of belonging where you can count on others to support you on your education journey. Even though you will only be in college for four years, this time is very significant to shape and form not only your professional future but your personal life as well.
Northside ISD
Private High Schools  

Northwest Vista College
Puerto Rico