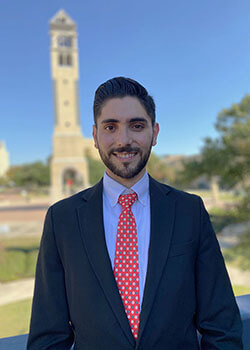 Title: Admission Counselor
Alma mater: St. Mary's University 
Hometown: Guadalajara, Mexico
St. Mary's has provided me a home and a place to grow and learn under the family spirit of the Marianists.
What I love about San Antonio
I love San Antonio's cultural vibrancy. 
One piece of advice for future Rattlers
Enjoy the natural areas on campus and the opportunity to have the chapels accessible whenever you need to reflect or pray.
Who is someone you admire and why?
I admire my dad because he always knows how to make me laugh and he has a charismatic ability to bring people together. He has a love for others and a love for his family. He inspires me to be a better man and to live with positivity towards my dreams. He sacrificed so much and continues to do so for our family.
What's something most people don't know about you?
I have made balloon figures at parties for 11 years. I learned how from my dad who works as a clown.
Who would you most like to swap places with for a day?
I would swap places with Tom Bilyeu, who is one of the founders of Quest bars. He pioneered the self-improvement channel Impact Theory, where he posts weekly videos about how to create an empowering mindset through the testimonies of highly successful people.
Who is your favorite superhero?
Coastal Bend (Corpus Christi)
Somerset High School
Edgewood ISD
East Central ISD
Harlandale ISD
San Antonio ISD except Travis Early College High School, Young Women's Leadership Academy

South San Antonio ISD
Southside ISD
Southwest ISD
Medina Valley ISD
Greater Bexar County and outline area
St. Philip's College
Del Mar Community College