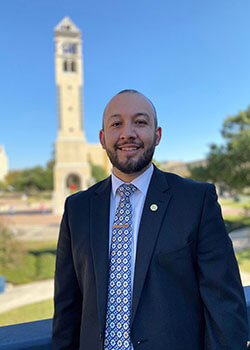 Title: Director of Outreach Initiatives
Alma mater: St. Mary's University
Favorite spot on campus: The Pub at St. Mary's
From the moment I got to St. Mary's, it felt like a family. People genuinely care about each other. While we expect the most of our students, there is always someone there to lend a hand to help you achieve whatever your dreams may be! 
What is your favorite St. Mary's tradition?
I am a huge fan of Fiesta Oyster Bake! Fiesta (A 10-day, city-wide event) is such a fun time to live in San Antonio – the culture, the activities and the food, all to raise money for various charities around the city. In the case of Fiesta Oyster Bake, the Alumni Association St. Mary's University Alumni Association annually hosts the event which support raises hundreds of thousands of scholarships for St. Mary's students. each year.
Describe your most meaningful memory with a Marianist brother.
I am really fortunate that through my time as an undergraduate in the Marianist Leadership Program (MLP), I was able to build a lot of really great relationships with multiple brothers, and they have been there for some of the biggest moments of my life. Rev. Richard Wosman, S.M., who recently passed, served as the officiant during my wedding, while Rev. Rudy Vela, S.M., D.Min., baptized my daughter in Assumption Chapel. It is hard to pinpoint just one most meaningful memory as they have played such an instrumental role in the person I have become.
What is your favorite place to eat off campus?
I love Chris Madrid's! If you are looking for a good burger joint in San Antonio, this is it. I highly recommend the Macho with cheese! I was really worried when a new ownership group took over that everything would change, but they have really honored its legacy and I think it embodies a lot of what is best about San Antonio – family, fun, and good food!
What is the most interesting place you've traveled?
As an undergraduate, I got to study abroad with the Greehey School of Business in Innsbruck, Austria. During that experience, we had five planned class excursions, one of which was to Dachau Concentration Camp. On the train ride to Dachau, Professor Stephanie Ward, Ph.D., handed me Night by Elise Wiesel to read – a powerful, Nobel-winning piece of literature about the Holocaust. That weekend was foundational to my growth as an adult. Actually visiting a concentration camp was one of the most interesting (albeit difficult) places I have ever traveled; it is difficult to describe the emotions being there evoked, but I wouldn't trade that experience for anything.
What are some causes you care about?
I am a big advocate for St. Jude's Children's Research Hospital. I have been raising money and awareness for the free, life-saving treatment they provide for a while now, but their cause has become even closer to my heart now having children of my own.
What would your personal motto be?
It's a great day for a ball game! Let's play two!

Ernie Banks
I am a die-hard Chicago Cubs fan, and this quote sums up why I idolize Ernie Banks (Mr. Cub) and his attitude. His zest for life and following his passion is something I try to strive for each day.