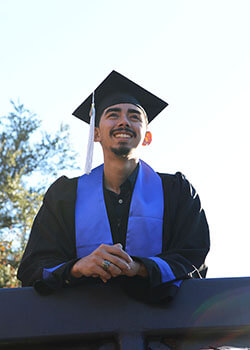 Title: Admission Counselor
Alma mater: St. Mary's University 
Hometown: Phoenix, Arizona
Our devotion to our students not only prepares them for post-graduation, but also presents countless opportunities to grow as an individual, a student, and a professional.  
What I love about St. Mary's
I love the small class sizes and the sense of family spirit that St. Mary's offers to everyone on campus.  
What I love about San Antonio
I love the rich culture and history that is found in San Antonio.
One piece of advice for future Rattlers
Enjoy the sense of family spirit that St. Mary's University holds close to its core. The friendships, partnerships, and mentorships you grow during your undergrad time here will follow you for the rest of your life; cherish them.   
What is your favorite place to eat off campus?
If you love burgers as much as I do, Babe's Old-Fashioned Food is the place to go. It's always burger o'clock for Babe's. On a rainy or gloomy day, my favorite off-campus restaurant is Pho Ha Long. Pho on these days just hit the spot.
What would your personal motto be?
In whatever you can do, in whatever manner that is, we must pay it forward for those that come after us and provide that support to better each other.
Who would you most like to swap places with for a day?
I would love to swap places with a squirrel at St. Mary's for a day. They look like they have the time of their lives chasing each other on the trees in Pecan Grove or the Quad. They also have their run-ins with the birds and like to start trouble. A day in the life of an StMU squirrel has always seemed like the life.
What would you tell someone considering moving to San Antonio?
Hate the cold?
Love historic buildings and locations?
Enjoy learning and experiencing different cultures?
Love city-wide celebrations and events?
If you said yes to any of these, then San Antonio is the place for you.
Arizona
Judson ISD
Laredo
Rio Grande Valley