You've been admitted to the St. Mary's University Class of 2024!
All of us at St. Mary's are excited to welcome you to our community and look forward to the many contributions you will make to our campus, the San Antonio community and beyond.
The Rattler Road Map is a resource for you and your family to use as you make your decision about where to attend college. The events and connections made on this page will help you get answers to your questions and discover how to make the most of your St. Mary's experience.
Do you have any questions?
If you or your family have any questions about St. Mary's University, please get in touch with us right away. We're here to connect you with the people and resources that can help.
Congratulations, Rattler. You're In!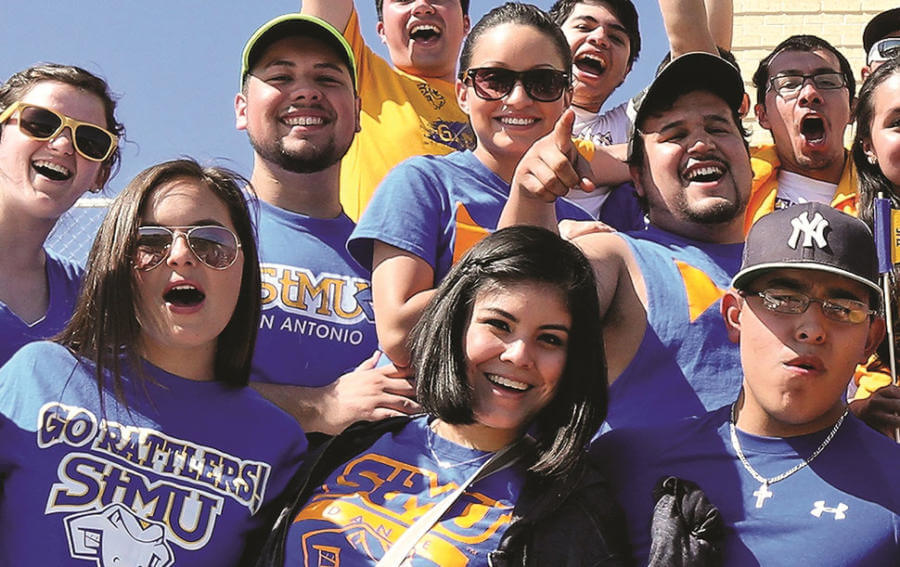 Events for the Class of 2024
St. Mary's University hosts many events to honor and welcome the Class of 2024 to St. Mary's University.
Attend an event to get connected with St. Mary's faculty, meet our alumni and make new friends.
Now that you've been admitted to St. Mary's, what's next?
Experience St. Mary's for yourself to meet the people that make St. Mary's a special place to study. You will meet your future classmates, professors and build friendships that will last a lifetime.
Consider costs and funding

As you and your family explore how to finance your education, the Office of Financial Assistance partners with you to understand the process and how to demystify the various funding options available to you based on your family's unique circumstances.

The estimated Cost of Attendance (COA), or student budget, is the average cost to attend St. Mary's for one academic year (fall and spring). The COA includes tuition and fees, books and supplies, room and board, transportation and other personal expenses.

Please note that the COA includes estimated amounts for indirect costs (like transportation and personal expenses). Your St. Mary's bill will include only direct costs.

Cost of Attendance

There are many different types of financial assistance available to students. The most common categories of aid are merit-based sources (such as academic or fine arts scholarships) and need-based sources (such as federal, state or institutional grant and loan programs).

If you have been awarded one of our general academic scholarships, it is detailed in your offer of admission to St. Mary's.

In addition to general-merit awards, students may also apply for specialized academic, leadership and talent-based scholarships.

These awards include the St. Mary's University Honors Program, the Greehey Scholars Program, the Marianist Leadership Program, ROTC awards, or music scholarships, among others.

If you are interested in learning more about these scholarship programs, please contact the Office of Admission at uadm@stmarytx.edu or 210-436-3126.

Please note that St. Mary's University reserves the right to replace your scholarship with other gift aid sources of the same amount. If you are eligible for more than one academic scholarship, only the scholarship of the highest value may be awarded.

St. Mary's Scholarships
Complete enrollment confirmation and submit your enrollment deposit

You're ready to become a St. Mary's Rattler. Great! In order to officially accept your offer of admission and reserve your seat in the Class of 2024, you will need to complete the Enrollment Confirmation process.

The enrollment confirmation process (ECP) is completed by submitting the Enrollment Confirmation Form and the $200 nonrefundable enrollment deposit.

2. Enter your St. Mary's username and password.

3. Navigate to the "New Undergraduate" tab.

4. Go to the "Enrollment Confirmation Process" block and read the instructions carefully.

5. Complete all sections of the enrollment confirmation form.

6. Submit the $200 nonrefundable enrollment deposit and the $100 housing fee, if applicable.

If you are having trouble accessing Gateway and the enrollment confirmation form, please contact the Office of Admission directly at 210-436-3126.

Step-by-step Guide to complete ECP

Once you complete ECP, you can then register for on-campus housing, register for Zaragoza and complete the Freshman Advising Questionnaire.

Freshmen who live outside of Bexar County are required to live on campus for two years. Students may review this requirement and instructions on how to register for housing, and submit the required $100 nonrefundable housing deposit, on Gateway as they complete Enrollment Confirmation.

For questions regarding on-campus living arrangements, contact the Office of Residence Life at 210-431-4312 or reslife@stmarytx.edu.

Register for on-campus housing

Once you have completed ECP and the Office of Admission processes your deposit, you will be able to access the Freshman Advising Questionnaire.

This form should be submitted as soon as possible. As a new Rattler, you will meet with your academic adviser during Zaragoza.

Submit advising questionnaire
Your transition to life at St. Mary's University begins at Zaragoza, our new student orientation program. During Zaragoza, we introduce you and your family to the St. Mary's campus community, our programs, and your classmates and their families. Most importantly, Zaragoza welcomes you as one of us.

The first part of your St. Mary's orientation focuses on academics, placement testing, academic advising and class registration. These sessions take place in June (Z1 and Z2) and August (Z3).

Summer Zaragoza sessions are scheduled for:

– Z1: June 15 and 16
– Z2: June 18 and 19
– Z3: Aug. 13 and 14

Summer 2020: Z1, Z2 and Z3

Zaragoza concludes with Zaragoza Days, which takes place during the final days of summer before fall classes begin. This event acclimates you to our campus community, our mission and student policies as you begin your academic study at St. Mary's.

Zaragoza and Zaragoza Days are required for all new freshmen.

Aug. 15 and 16: Zaragoza Days
In addition to Enrollment Confirmation, students are also required to submit the following forms and documents by July 1, 2020:

– Final high school transcript (indicating date of high school graduation)

– College or community college transcript(s) for consideration of dual credit by Registrar's Office

– AP, IB or CLEP score reports submitted directly to St. Mary's from the testing service.

Transcripts

– Student health record
– Immunization record(s)
– Proof of medical insurance

St. Mary's students are required to submit proof of health insurance or be billed for the cost of the Student Health Insurance Plan.

In addition, you must also submit your immunization record(s). These documents can be found on Gateway and should be submitted before Zaragoza. A comprehensive list of the required and recommended immunizations can be found on Gateway under the Immunization Records tab. We ask that students pay special attention to the information regarding the required meningitis vaccine.

Medical forms
Once you arrive at St. Mary's, we hope you will get involved on campus and make your mark in the St. Mary's community. We are home to a dedicated and vibrant student body. We invite you to connect with the many student organizations as you discover new passions and interests.
Text us!

If you prefer to text, send the Office of Admission to our text line at 210-526-0796.