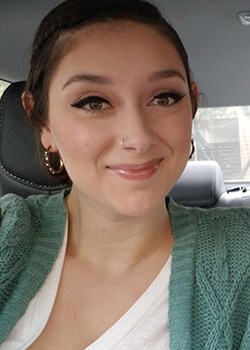 Title: Financial Aid Coordinator
Alma mater: Texas A&M University – San Antonio
Hometown: Somerset, Texas
Favorite spot on campus: The fountain in front of St. Louis Hall. It is always so picturesque and serene.
Favorite spot in San Antonio: The Botanical Gardens. It's fun to explore what feels like a little oasis in the middle of the city and they also hold many fun events.
We have a family dog named Molly. She literally smiles any time someone simply approaches her.
What is the most interesting place you've traveled?
I was fortunate enough to travel to Scotland with my family and stay in a B&B while there. Staying in a B&B with a local family made all the difference in being able to learn about their culture. I was able to see their day-to-day life as sheep farmers and was taught to dance by locals at a pub!
What did you want to be when you were a kid?
When I was a kid, I wanted to be a nurse, which is so different from a job in higher education. I quickly realized I do not have the stomach for nursing, unfortunately. I'm so thankful for all they are capable of. They're amazing people!