We'll help you get there
One of the myths about studying abroad is that it can be prohibitively expensive. We host a variety of programs to provide flexibility. As long as you plan at least one semester in advance, numerous scholarship opportunities are available:
SGA study abroad grants
All St. Mary's undergraduate students are eligible to receive a Student Government Association Grant, which awards up to $1,000 for summer programs and up to $2,000 for a semester abroad. Each year, St. Mary's awards over $40,000 in study abroad grants, and students are automatically considered. There is no need to apply.
Jessica Garcia Memorial Scholarship
This scholarship donates up to $7,000 each year to students attending semester-long study abroad programs. The scholarship was organized in 1996 by friends and family of Jessica Marie Garcia (B.A. '92) and has supported students for the past 20 years. The scholarship honors Jessica's commitment to excellence in life and appreciation of the world and other cultures, and is awarded to those who demonstrate a commitment to scholarship and community service.
Academic merit scholarships
Students attending semester-long programs are able to use their academic merit scholarships and most other semester-based scholarships. Often, the difference in cost between a semester abroad and a semester at St. Mary's is the cost of airfare. Depending on the program you attend, your semester cost may actually decrease when taking into consideration the cost of living in a particular country!
Nationally- and internationally-awarded scholarships
In addition to St. Mary's scholarships, we help students apply for prestigious national scholarships such as the Benjamin A. Gilman Scholarship, which awards students up to $8,000 toward a program during the semester and up to $3,000 during the summer. The Gilman Scholarship is awarded to Pell Grant recipients and promotes study abroad for underserved populations who might otherwise not be able to study abroad. The award is funded by the U.S. Department of State and the Institute for International Education and serves as a first stepping stone for many to consider a career in foreign service or work with the U.S. Department of State.
Other resources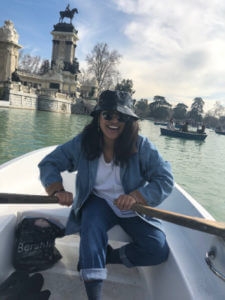 Students can take advantage of a number of financial resources, as all study abroad programs award academic credit. Students can use Pell Grant funding on eligible programs during the summer and semesters, as long as students maintain half- to full-time status. Summer Pell Grants are awarded in amounts upward of $2,500.
All of these resources help minimize the number and amount of student loans that students may take out for a program, which is also a viable option.
The Center for International Programs works very closely with all students, mentoring them as they work through the application process. We view applying for scholarships and grants as a form of academic and professional development and as a form of resiliency building for students who will later enter the workforce.