Army ROTC offers substantial scholarship opportunities, access to advanced training for qualified students and leads to a career in the Army Nurse Corps.
St. Mary's University and The University of Texas Health Science Center at San Antonio (UTHSCSA) School of Nursing offer a cooperative nursing partnership for students desiring a bachelor's degree in nursing (B.S.N.). A B.S.N. qualifies students to take the State Board for Registered Nurses.
During the first phase, students complete a minimum of 60 credit hours at St. Mary's University. First phase students may live in campus residence halls, dine on-campus with a meal card and use the fitness and recreation facilities at the Alumni Athletics & Convocation Center.

The second phase consists of 60 hours in upper level work at the UTHSCSA School of Nursing. The accredited nursing program offers courses in nursing theory and skills and provides opportunities for practical experience in a variety of clinical settings.

Second phase students may continue to reside on-campus at St. Mary's University while attending the School of Nursing.
The St. Mary's Curriculum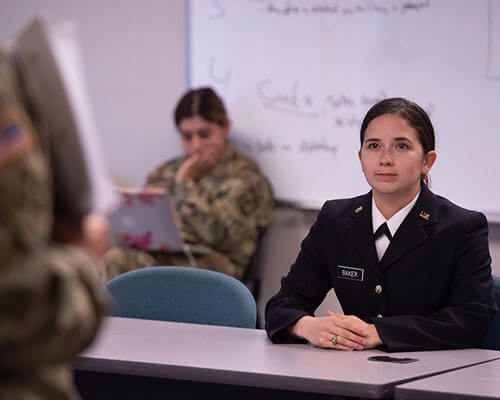 Students who aspire to a health profession often pursue a curriculum devoted to the natural sciences, but a recent report by the Association of American Medical Colleges states that premature specialization at the undergraduate level could stall the development of critical thinking skills.
The report strongly recommends that pre-professional programs be broadened to include study in the arts, humanities and social sciences.
The study of biological sciences at St. Mary's University has always included a broad-based curriculum designed to prepare well-rounded health care professionals.
In addition to providing extensive scientific training, the degree program imparts skills in written and oral communication, critical analysis and a respect for ethical concerns. Because our students display competence, dedication and compassion, they are readily accepted into the health professions. Historically, more than half of graduates who apply are admitted to medical and dental schools, well above the national average.
The first phase of classes for the cooperative partnership between St. Mary's University and The University of Texas Health Science Center at San Antonio School of Nursing includes general biology, general chemistry organic- and bio-chemistry, microbiology, anatomy and physiology. In addition to the science courses, students are required to take general psychology and psychological development courses, philosophy and ethics courses, historical analysis of the United States, English composition courses and American and Texas government.
Some of the courses included in the first phase of the nursing program are considered part of St. Mary's Core Curriculum. The core is designed to contribute to the expansion and deepening of a student's education by equipping them with the skills, habits and values that provide a broad and balanced preparation for life in the increasingly complex world.