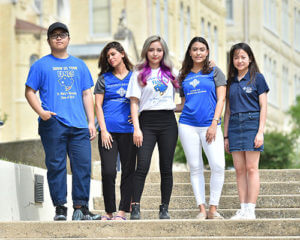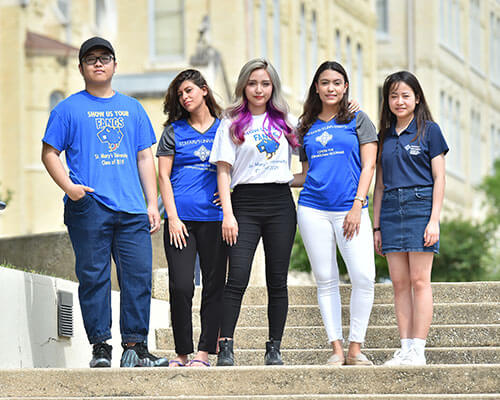 St. Mary's University requires international students to be proficient in English before receiving full admittance, which requires a score of at least a 6 on the International English Language Testing System (IELTS) and at least an 80 on the Test of English as a Foreign Language (TOEFL) exam.
Students who do not meet the University's language proficiency requirements may be granted conditional admittance to St. Mary's through the Academic Transition Program (ATP).
ATP is a 15-week program that helps students achieve language proficiency while taking up to 15 instructional hours of Intensive English Language Program (IEP) courses, and one to two academic courses as a conditional admittance to the University. The program is not to be taken for more than two consecutive semesters.
Students interested in the Academic Transition Program must apply using this form:
Eligibility
Non-immigrant students who do not meet the English proficiency requirement but score at least a 5.5 on the IELTS and at least a 65 on the TOEFL exam are eligible to participate in ATP.
Students who do not provide an official IELTS and TOEFL English proficiency score are required to take the IEP Placement Test. Students must score at least a 69 on the CaMLA English Placement Test portion of the exam and at least an 70 on the essay-writing component to be eligible to participate in ATP.
Not eligible? You may qualify for the Pre-Academic Transition Program.
Students who do not meet ATP requirements, but score a 5 on the IELTS and between a 45 and a 60 on the TOEFL exam are qualified to enroll in the Pre-Academic Transition Program (Pre-ATP), an ATP preparatory program, allowing students to take IEP courses to improve their English proficiency.
Pre-ATP students are not permitted to take academic courses until they advance to the ATP.
Exit Criteria
To successfully complete ATP and gain full admittance to St. Mary's, students must maintain good standing in both their academic and IEP courses with:
a minimum grade of B+ or higher for one course or a 2.0 cumulative GPA in all academic courses
a final grade of at least a B in IEP courses with 90 percent attendance
Upon completion of the program, students must take an IEP Exit Exam to demonstrate English proficiency.
Once the proficiency level is verified, students will be placed into first-year English composition courses to get additional language support or as fully admitted students.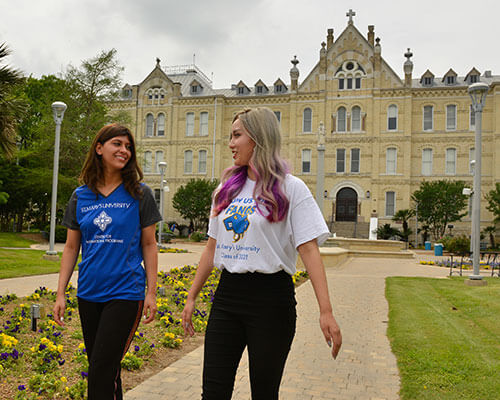 Undergraduate ATP Schedule and Courses
An ATP semester schedule consists of two academic courses (6 credit hours) and a minimum of 12 IEP instructional hours.
All ATP students are allowed to take two academic courses (6 credit hours) for one semester: One St. Mary's Core course for all majors and one school specific course upon approval by the academic adviser.

SMC 1312 Foundations of Reflection: Nature
SMC 1313 Foundations of Reflection: Others
SMC 2303 Foundations of Practice: Fine Arts and Creative Process

*Courses available for ATP students at undergraduate levels

Core Courses for All Majors
Academic courses available to ATP students are pre-selected University Core or school specific Core courses.
School of Science Engineering and Technology

Four credit-hour Math course
Introductory/fundamental courses

College of Arts, Humanities and Social Sciences

MT 1301 Mathematical Logic for the Humanities
MT 1302 Mathematical Topics in the Social Science
Introductory/fundamental courses

Greehey School of Business

BA 1310 Fundamental of Business Enterprise
MT 1305 Finite Math
Introductory/fundamental courses

*Math courses are available based on ACCUPLACER Math placement test results

*Introductory or fundamental courses will be recommended by the academic adviser

School Specific Courses
Tuition and Fees
Spring 2019 Undergraduate Tuition
$925 per credit hour
$5,550 total cost for two undergraduate courses (six credit hours)
Spring 2019 ATP Tuition
$1,900 for up to 15 IEP instructional hours (textbook included)
$100 information service fee
$160 new student mandatory orientation fee
N/A course fee (as required)
Fees Total
$590 (total cost for fees is subject to change if course fees are incurred)
Estimated Cost for Tuition and Fees
$9,150 (Cost for meals and housing is not included in this estimate)
Learn More
What is the deadline to submit my ATP application?
Fall semester: July 1
Spring semester: December 1

What happens if I submit my application after the semester deadline?
Any application submitted after the semester deadline is deferred to the following semester.

Can I start the ATP program in the summer?
The ATP is not available during the summer semesters (short term). Only IEP courses for the Pre-ATP are available during the summer.

How many weeks does an APT semester last?
15 weeks (Fall/Spring)

What is the minimum number of instructional hours required per week for the ATP?
A minimum of 18 instructional hours per week are required

How many credit hours can I take per semester?
Students can take up to 6 credit hours (usually 2 academic courses)

What academic courses are available to ATP students?
One of the three St. Mary's core courses
One of department specific courses

What English courses are available to ATP students?
The following English courses are available to ATP students: Academic Reading and Writing, Academic Communication Skills, and Grammar for Better Writing.

What is the minimum English proficiency requirement for the ATP?
TOEFL ibt (61) | TOEFL pbt (490) | IELTS (5.5) | Pearson PTE Academic (49)

Do I need to provide an English test score to apply for the ATP?
If you don't have any official English test score, you are will be required to take a placement test upon your arrival and will need to score a 71 or higher on the computerized test and 80 or higher on essay writing.

What are my options if I score low on the placement test?
Students who do not meet the score requirements of the placement test and essay writing, you will be placed in Intensive English Program (IEP) leveling courses. Students must be able to perform at and complete IEP level four to be considered eligible for the ATP program.

Does the ATP offer scholarships?
For the ATP, scholarships are not granted to international students.

What is the start date for the Fall 2018 semester?
The start date for Fall 2018 is August 13 and ends on November 30 (followed by the final exam week).

What conditions do I need to meet to be considered for admission to St. Mary's University?
Obtain a grade of a B or higher and 90% attendance rate from IEP courses
Remain in good academic standing in all academic courses (as outlined in University Policy)
Complete an IEP exit exam and demonstrate academic readiness with an appropriate English proficiency level

Frequently Asked Questions
For more information about the Academic Transition Program or the Pre-Academic Transition Program, contact the Center for International Programs at 210-431-2205.