About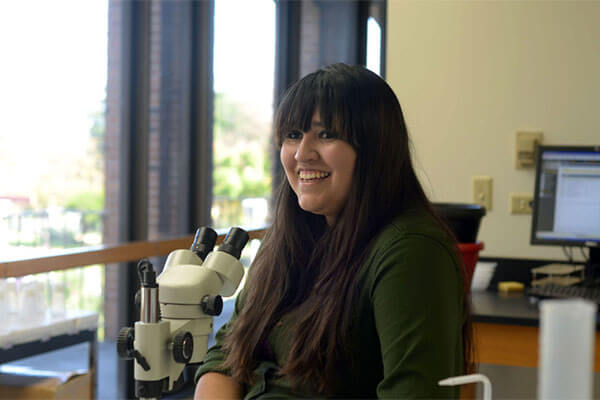 The Maximizing Access to Research Careers (MARC) Undergraduate Student Training in Academic Research (U*STAR) is sponsored by the National Institute of General Medical Sciences (NIGMS).
MARC U*STAR provides underrepresented students majoring in Biology, Biochemistry, Chemistry, Physics or Engineering Science opportunities to complete research training and work alongside faculty mentors in the biomedical sciences. Undergraduate students participating in the MARC U*STAR program are provided with academic and research support to prepare them for Ph.D. programs in the biomedical sciences.
The program offers students numerous benefits, including academic year and summer research experiences at designated laboratories, opportunity to present at annual campus-wide symposium, attendance at scientific conference (travel related costs are paid), professional development including colloquiums, seminars, and workshops, as well as stipends ($12,336/year) and tuition assistance.
Program Goals
The MARC U*STAR program aims to produce competitive candidates for Ph.D. or M.D./Ph.D. graduate programs in the biomedical research field.
The MARC U*STAR program provides students, traditionally underrepresented, opportunities to gain knowledge about the field by offering workshops, seminars, and symposiums.
Students participating in the MARC U*STAR program receive the academic and research training they need to succeed in a doctoral program, including GRE preparation.
Students in the MARC U*STAR program are involved in research projects with faculty members in the biomedical research field on a year-round basis.
Pre-MARC Program
With the Pre-MARC Program, students will receive hands on research experience under the supervision of a faculty member at a research-intensive institution during a ten-week period over the summer break. In order to be eligible to the program, students:
Must have at least a 3.0 GPA.
Must be interested in attending graduate school and obtaining a Ph.D.
Must complete the application form.
Contact
If you are you a current St. Mary's student or a high school student interested in learning more about the MARC U*STAR and/or the Pre-MARC programs and its outstanding benefits, please contact Tim Raabe, Ph.D.
Timothy Raabe, Ph.D.
MARC U*STAR Program and Pre-MARC Program Director
Associate Dean of the School of Science, Engineering and Technology, and Professor of Biology
210-431-4321