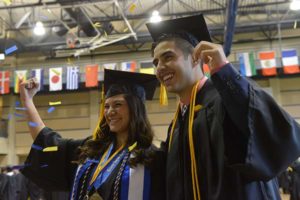 The Office of Student Retention is dedicated to the success of St. Mary's University students. Employing a mix of one-to-one student contact, program development and review of University policies and procedures, the office focuses on improving the retention and graduation rates of our students. Coordinating such an effort requires the Student Retention staff to employ a collaborative model, and we work closely with many offices on campus to carry out our mission.
The Office of Student Retention is a resource for students, parents, faculty and staff. We are dedicated to helping improve the student experience at St. Mary's University, from day one through graduation. The Office of Student Retention provides leadership and vision for undergraduate retention activities. Some of the programs we manage include the Faculty Academic Mentor Program, the Refer to Retain program, and the Dare to Excel initiative.
Though paying the bill each semester and making sure there is enough money on your student's dining card is important, there is more that you can do to help your student be successful at St. Mary's… after all, you are part of the Rattler community, too! The Office of Student Retention knows that parents are an important factor in any student's college life.
During the admission process you were probably very involved, from helping your student fill out the Enrollment Confirmation Packet to signing the check for the enrollment deposit, but as the semesters pass and your student becomes more familiar with the University procedures and processes, you may find your role has diminished. This is not the case; your role has just changed.
Going to college is a transition, and transitions can be awkward and messy. That is where our office comes into play. We will provide you with tips, tools and resources to ensure that you are equipped with the information you need to help your student.
How can I help my student be successful?
Being involved in your student's college career could mean the difference of a diploma. Here are some helpful tips to help you be informed so that you can help make your student successful at St. Mary's University.
Parent Tip No. 1:
Help your student stay enrolled in classes.
Campus and national studies show that students who are enrolled full time (12 hours or more), complete 20 credits or more during their first year, and are continually enrolled throughout their time at the University are more likely to graduate. This means, when your students says he/she wants to take a semester off, you may want to suggest that he/she talks to their academic adviser to see how that might affect their standing. Another note: Continually dropping classes can be dangerous — not only to your student's bill, but to their transcript and academic progress, as well. A student who continually drops classes may want to see his or her adviser, it could be a sign that he/she may be better suited for another major or field of study.
Parent Tip No. 2:
Help your student stay engaged with student life.
It is a fact that students who are involved in extracurricular activities while in college are more likely to succeed academically. This is why St. Mary's University offers offers a wide variety of opportunities for for students to get involved! From academic and social organizations to internships and service learning, we encourage students to find something to do outside the classroom. Almost every day of the year, there is something happening on campus. If your student is bored and doesn't know what to do, direct them to the University Center where the Student Life Office is located (on the second floor). Here they can learn about how to get involved. You can also suggest they visit the Career Services Center. It is never too early — or late — for an internship.
Parent Tip No. 3:
Encourage your student every step of the way!
Of course, we want you to be the supportive and encouraging parent you already are, especially when your student is going through a rough period or needs some additional help. Your student will rely on your advice to make his or her decisions. The goal, of course, is for your student to finish school and get that degree. So, if you find that you are in need of the "right words" to help your student, visit our parent resources page. And if you still don't have the best answer, we may be able to offer some sage advice. There are plenty of resources available at St. Mary's for parents and students, including the Office of Student Retention. Feel free to email or call with any questions. St. Mary's also provides free counseling to students at the Student Psychological and Testing Center.