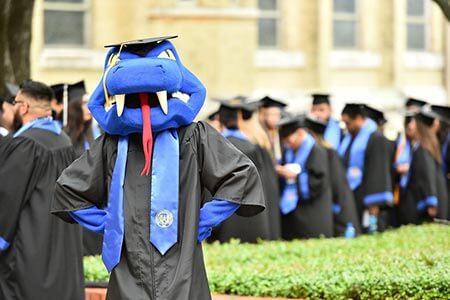 The Office of Student Retention is dedicated to the success of St. Mary's University students. Employing a mix of one-to-one student contact, program development and review of University policies and procedures, the office focuses on improving the retention and graduation rates of our students.
Coordinating such an effort requires the Student Retention staff to employ a collaborative model, and we work closely with many offices on campus to carry out our mission.
The Office of Student Retention is a resource for students, parents, faculty and staff. We are dedicated to helping improve the student experience at St. Mary's University, from day one through graduation. The Office of Student Retention provides leadership and vision for undergraduate retention activities. Some of the programs we manage include the Faculty Academic Mentor Program, RattlerNAVIGATE, Rattler Finish, and the Family Engagement Program.
Students are able to meet with staff from our office for assistance to trouble shoot issues that may keep them from being able to attend or be successful in their classes. Undergraduate students who are considering not attending St. Mary's in the future or are withdrawing from the current semester also meet with our staff to discuss their options and help them make informed decisions to ease transitions or breaks from the University.
Current undergraduate and graduate students can schedule an appointment one of two ways:
Using RattlerNAVIGATE app

Online (select "Retention Office" for your appointment type)