Worldwide Case Competitions, 2014-2019
The Greehey School of Business has successfully qualified for and participated in the Network of International Business Schools (NIBS) Worldwide Case Competition every year from 2014 through 2019 against top university teams from around the globe. Our teams, consisting of four students, have competed in Ottawa, Canada; London, England; Rauma, Finland; and Guatemala City, Guatemala.  In 2019, the Greehey School of Business team brought home the NIBS Case Competition bronze medal and was one of 16 teams to make it to the championship round.
The 2019 Greehey School of Business team brought home the NIBS Case Competition bronze medal. The team, led by Professors Jeffrey Johnson, Ph.D. and Matthew Jordan, was one of sixteen teams to make it to the championship round held in Canada.
In keeping with our mission to develop globally aware students, the Greehey School of Business offers numerous opportunities to engage in global experiences for students and faculty.
International Business Students Headed to Brazil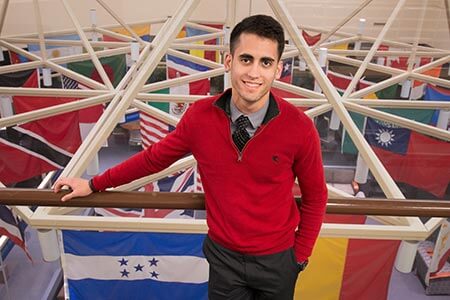 International Business students are headed to Brazil summer 2021 (tentative). The three-week trip will be part of a yearlong practicum in trade operations and marketing. The practicum exposes students to diverse cultures, languages and business practices from around the world.
The trip, led by Prof. Matthew Jordan, will be an immersive learning experience that will help students understand and analyze global business practices, and identify global opportunities while navigating diverse cultures.
2019 Greehey MBA International Field Study in Costa Rica and Panama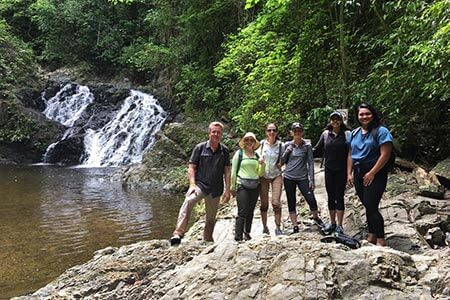 This summer, Greehey MBA for Values-Driven Leaders took part in a 10-day international field study in Costa Rica and Panama. Student gained insights into the local economy, toured top businesses and engaged with industry executives. They also engaged with local cultures and took in the breathtaking landscapes.
The international field study is an essential component of the Greehey MBA for Values-Driven Leaders program. The summer field study exposes MBA students to the global business environment by introducing them to international business practices and cultures.
Management Class Goes Global
Students in a summer 2019 Management class, Organizational Behavior, traveled to Italy to exam human behavior in the global work place. The three-week course explored the internal cultures of various global companies and industries.
The course, led by Prof. Cody Cox, Ph.D., was a first the Management department but it was certainly not the last; Prof. Cox will be traveling to Korea and China during the summer 2020 with a new group of students enrolled in Organizational Behavior.
Enactus Service Abroad in Panama
Finance Professor, Prasad Padmanabhan, Ph.D., led a team of Enactus (Entrepreneurial Action in Us) students on a service trip to Panama. Students connected with a local group of students from the University of Panama.
Together they worked with the UNDP (United Nations Development Programme) to develop survey instruments and administer surveys to local Darien families to determine the factors that contribute to malnutrition.
The StMU Enactus team also met with banana and cocoa farmers on the west coast of Panama to set the groundwork for a new project with the FAO (Food and Agriculture Organization).  The project, tentatively set for spring 2021, involves developing business related strategies to grow farmers' businesses and teaching those strategies to farmers by way of lectures and workshops.