A powerful force
for more than 95 years
In 1923, the business school began offering courses in accounting and economics. From a college with its first graduating class of two, it has grown to a business school that has awarded nearly 8,000 undergraduate degrees and nearly 2,000 graduate degrees. The school now offers seven undergraduate majors, a Greehey MBA,  MBA for Professionals, as well as several joint MBA programs.
In the more than 95 years that the business school has been in existence, it has emerged as a powerful force in South Texas, educating some of the finest business leaders in the state and instilling a sense of ethical values that have shaped their lives and our economy. Based on the same Marianist traditions that St. Mary's was founded upon, the school's mission is to instill ethical leadership qualities in its students. Marianist Brothers George B. Kohnen, S.M., and Paul Goelz, S.M., as the school's early leaders worked to make sure these attributes were included in the curriculum, long before the phrase corporate responsibility was ever coined.
The Albert B. Alkek Business Building is named for the primary donor of the building, Albert B. Alkek (CL '32). A gift of almost $1 million from the Albert and Margaret Alkek Foundation enabled the school in 1998 to add 7,000 square feet onto the Alkek Building, bringing the total area to slightly more than 50,000 square feet of classrooms, seminar space, conference rooms, faculty and staff offices and space for centers in entrepreneurship and global business studies.
In 2005, alumnus and Valero Energy Corporation Chairman of the Board Bill Greehey (B.B.A. '60) made a personal gift of $25 million to St. Mary's University to endow the business school, establishing the Greehey School of Business. Along with being a very successful business leader, Greehey is also a very generous philanthropist. The importance of giving back to the community and corporate responsibility are virtues he learned at St. Mary's from the Marianist brothers. His gift to establish the Greehey School of Business furthers the University's mission to educate future local, national and global business leaders to be citizens of the world.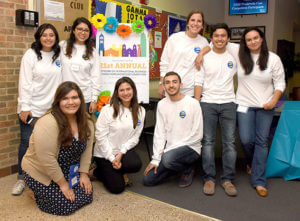 In 2016, the Greehey School of Business hosted the championship round of the 21st annual Network of International Business Schools (NIBS) Worldwide Case Competition. The event, one of the oldest undergraduate case competitions in the world, is an intense competition that brings undergraduate students from business schools worldwide to analyze business cases, prepare solutions to real problems, and present recommendations to panels of senior managers, policymakers, and academics. It is a test of problem-solving ability, business acumen, cultural insight, communication skills and teamwork.
---
Vision
Transforming lives and building a better world through an excellent business education grounded in faith, values, and service.