The Conference on Justice and Social Concerns provides our campus community with the opportunity to engage with issues of social justice, faith, and personal and communal responsibility to the common good. In this two-day conference, experts in both academic and practical realms will come together to lead our campus in dialogue around issues challenging our community locally and globally.
2020 Speakers and Panelists
Chief Astronomer and Planetarium Director, Franklin Institute Science Museum
Speaker, Opening Plenary – NEXT: Imagination, Innovation, Discovery
Derrick Pitts has been associated with the Franklin Institute Science Museum since 1978, creating, designing and presenting many of the museum's public programs and exhibits. Pitts was the original director of the Tuttleman IMAX Dome Theater, a museum vice-president and many other valued positions. He has been Chief Astronomer and Director of the Fels Planetarium since 1990, having written and produced more than two-dozen planetarium programs. He served as the US National Spokesperson for the IAU International Year of Astronomy 2009, was NASA's first Astrobiology Ambassador and has been a NASA Solar System Ambassador for nearly a decade.

He has written extensively for newspapers and magazines nationwide. He appears regularly on all the major television networks as a science content expert and, for more than two decades, has hosted award-winning astronomy radio programs for Philadelphia's WHYY 91 FM and WXPN's Kids' Corner radio program. Pitts is an on-air content contributor for national and international television networks, including CBS, BBC, MSNBC, Al Jazeera America, The History Channel, PBS and NOVA. He's had stunning appearances on the Comedy Channel's Colbert Report and The Late, Late Show with Craig Ferguson on CBS. He even met President Barack Obama and his family when he was invited to the White House to participate in the first-ever White House Star Party.

Pitts is nationally known as an excellent teacher. His presentations are stimulating, humorous, intellectually challenging, compelling and, at the same time, accessible to the broadest audiences. He puts his emphasis on making sure that everyone can come to appreciate the universe as he sees it — not a watered-down sketch of the universe, but a rich, deep, complex version with human connections that everyone can understand at some level. His signature NASA-funded urban astronomy outreach program, "City Skies: Connecting Neighborhoods to NASA through Urban Observing," distributed nearly 900 telescopes, accessories and books to almost 10,000 unique families through partnerships with 45 community-based organizations over a four-year period from 2013 to 2017. The project also distributed more than 8000 solar eclipse viewers to inner-city eclipse observers during the two years leading up to 2017's Great American Eclipse. His multi-award winning, best-selling planetarium show, To Space and Back, released in 2013, has been seen by millions of planetarium visitors in over 35 countries around the world.

Among his many awards are the Mayor's Liberty Bell, the St. Lawrence University Distinguished Alumni Award, the George Washington Carver Medal, induction into the Germantown Historical Society Hall of Fame, selection as one of the "50 Most Important Blacks in Research Science" by Science Spectrum Magazine in 2004, the 2010 inaugural recipient of the David Rittenhouse Award, honorary Doctor of Science degrees from LaSalle University (2011), Rowan University's College of Science and Mathematics (2016) and in 2013 was named Wagner Free Institute's first Fellow and awarded their honorary degree Doctor of Humane Letters. In 2019, he was recognized as the Geographical Society of Philadelphia's Explorer of the Year and the Philadelphia Public Relations Association's 2019 Gold Medal Awardee. Pitts recently served as the Science Museum, Planetarium, and Urban Outreach advisor for the world's largest research telescope at Mauna Kea Observatories, Hawaii. He also serves on the Board of Trustees for his alma mater St. Lawrence University, the Astronomical Society of the Pacific, Associated Universities, Inc. — the agency that manages the world's largest radio telescopes — and is the immediate past president of the Greater Philadelphia Chapter of Tuskegee Airmen Inc.

His Twitter handle is @CoolAstronomer and his motto is "Eat. Breathe. Do science. Sleep later."

More about Pitts
Science evangelist and author
Speaker, Lin Great Speakers Series Keynote Presentation – How Technology Transforms Us
Ravi Chaudhary, D.L.S. (M.S. '99)
Director of Advanced Programs and Innovation, Federal Aviation Administration
Speaker, Blending STEM, the Arts and Human Values to Drive Innovation – A Perspective from the Drone and Space Industry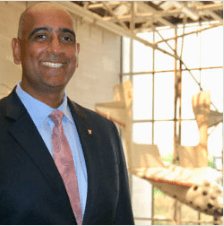 Ravi Chaudhary, D.L.S. (M.S. '99), is the Director of Advanced Programs and Innovation, Office of Commercial Space Transportation (AST), at the Federal Aviation Administration (FAA). He is responsible for the execution of advanced development and research programs in support of the FAA's Commercial Space Transportation mission.

Chaudhary previously served as Executive Director, Regions and Center Operations, at the FAA. He is a former Air Force officer, having completed 21 years of service. &As a C-17 pilot, he conducted and led global flight operations in Europe, Asia, Africa, the Caribbean and the Pacific regions. Chaudhary has logged over 3,000 hours as a pilot and flight test engineer (760 combat hours) and multiple deployments since Sept. 11, 2001.

Chaudhary holds a Doctorate specializing in Executive Leadership and Innovation from the Georgetown University D.L.S. Program, a Master of Science in Industrial Engineering from St. Mary's University as a NASA graduate fellow, a Master of Arts in Operational Arts and Military Science from Air University and a Bachelor of Science in Aeronautical Engineering from the Air Force Academy.

More about Chaudhary
Luis M. Rubio-Herrero, Ph.D
Associate Professor, Technical University of Madrid, and Deputy Director, Center for Plant Genomics and Biotechnology
Speaker, How Nitrogen Fixation can Help Eradicate Extreme Hunger
Luis M. Rubio-Herrero, Ph.D., is an Associate Professor at the Technical University of Madrid and Deputy Director of the Center for Plant Genomics and Biotechnology. His main interest is in generating nitrogen-fixing crop plants, a program funded by the Bill & Melinda Gates Foundation. He received his Ph.D. from the University of Seville (1999), was a postdoctoral researcher at the UW-Madison (1999-2002) and Staff Scientist at UC-Berkeley (2002-2008). In 2008, he returned to Europe with an ERC Starting Grant award.

More about Rubio-Herrero
Belliappa (Belli) Kuttanna
Intel Senior Fellow and Chief Technology Officer, Intel Capital at Intel Corporation
Speaker, Evening Fireside Chat – What is on the Forefront of Innovation in Silicon Valley and Beyond?
Belliappa (Belli) Kuttanna is an Intel Senior Fellow and the chief technology officer of Intel Capital at Intel Corporation. He is responsible for overseeing evaluations of externally developed technologies and guiding investment decisions in new and growing domains including artificial intelligence and computer vision.

Kuttanna also works with the Emerging Growth Incubation group to identify, incubate, and accelerate potential growth businesses for Intel. Kuttanna leverages his expertise in computing and low power architecture and design as a key contributor to IP technology and product definition strategy for several business units within Intel. While serving as lead architect for the New Technology Group, Kuttanna led the acquisition of Movidius in 2016 and the efforts to scale the technologies while integrating the company into Intel. He was the chief architect of several generations of the Intel® Atom and Intel® Quark processor families until 2014. He was the chief architect for the system-on-chip (SoC) in Medfield, the first x86- based phone platform. He was also responsible for performance analysis of several other Intel® Atom processor-based SoCs. Additionally, he significantly contributed to the development of multiple product lines, including microservers, consumer devices, and Internet of Things technologies. Since the start of his career in 1989, Kuttanna also held positions in the areas of ASIC and processor design and architecture at Texas Instruments Inc., Motorola Inc., Sun Microsystems Inc., and Qualcomm Inc.

Kuttanna holds 28 issued patents and was the recipient of an Intel Achievement Award in 2008. Kuttanna earned his bachelor's degree in electronics and communication engineering from Karnataka Regional Engineering College in India and a master's degree in electrical engineering from Texas A&M University.

More about Kuttanna
Katherine D. "Kathie" Resteiner (M.S. '94)
Chief of Staff, Intel Capital
Host, Evening Fireside Chat – What is on the Forefront of Innovation in Silicon Valley and Beyond?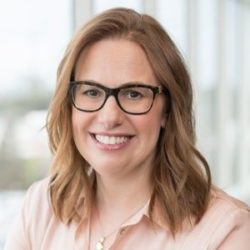 Kathie Resteiner (M.S. '94) is Chief of Staff for Intel Capital. In this role, Resteiner oversees operations and strategic initiatives across Intel Capital and the Emerging Growth Incubation Group. She is also Technical Assistant to Wendell Brooks, President of Intel Capital.

Prior to becoming Chief of Staff, Resteiner was an M&A Integration Manager for Intel Capital, responsible for running diligence and end-to-end integration and change management. She joined Intel in 2015 via the integration of McAfee into Intel; at McAfee, she was leader of the M&A Integration Management Office. Resteiner has broad operations experience in manufacturing, new product introduction, supply chain, procurement, marketing, operations and support. She was part of the startup of VCE, a JV between VMware, Cisco and EMC and also had long tenures at Alcatel-Lucent and Harris Corporation. Resteiner holds a bachelor's degree from Virginia Tech in Industrial and Systems Engineering and a master's degree in Industrial Engineering from St. Mary's University.

More about Resteiner
Robert R. Puente, J.D., (B.A. '79)
Panelist, Water and San Antonio
Robert R. Puente, J.D. (B.A. '79), was appointed San Antonio Water System's President and CEO in May 2008. As chief executive of one of the nation's largest utilities, he provides leadership in delivering water and wastewater services to more than 1.7 million consumers, developing new water resources, continuing infrastructure upgrades throughout the community, and building regional partnerships. Before coming to SAWS, Puente served in the Texas House of Representatives. First elected in 1991, Puente was appointed to the House Natural Resources Committee, which develops water policy for the state and became its chair in 2003. In 1979, Puente received a bachelor's degree in political science from St. Mary's University. He received his Doctor of Jurisprudence from The University of Texas School of Law in 1982.

More about Puente
General Manager, Edwards Aquifer Authority
Panelist, Water and San Antonio
As General Manager of the Edwards Aquifer Authority (EAA), Roland Ruiz serves as the chief executive of a special purpose regional groundwater agency tasked with managing and protecting the Edwards Aquifer system. One of the most prolific artesian aquifers, the Edwards is also well noted as the primary water source for more than 2 million people in south central Texas and for providing flows to two of largest natural spring systems in the Southwest – the Comal and San Marcos springs.

More about Ruiz
General Manager, San Antonio River Authority
Panelist, Water and San Antonio
Suzanne Scott is the General Manager of the San Antonio River Authority. She works with a talented staff of engineers, scientists, environmental managers, field crews and other professionals to extend the River Authority's environmental leadership, stewardship and expertise and to broaden appreciation for the San Antonio River and its ecosystem. She led the agency's efforts to plan, develop and secure funding for the $384 million San Antonio River Improvements Project in Bexar County. The project added 13 miles of hike, bike, and paddling trails to the river, while restoring the environment. The completion of the river's restoration served as a key factor for the nomination and inscription of the San Antonio Missions as an UNESCO World Heritage Site in July 2015.

More about Scott
Detective, San Antonio Police Department
Panelist, Cybersecurity in the New Decade – Is Your Personal Data Seeing More of the World Than You Are?
Brian Stuhl is a Detective with the San Antonio Police Department. He has been working with the police department for 22 years and has been assigned to Computer Forensics for the past 10 years. Brian also serves on the FBI Cyber Task Force, investigating computer intrusions and malware investigations. In his off time, Brian teaches a graduate level Computer Forensics class at St. Mary's University as well as undergraduate classes at Northwest Vista College. In addition, he teaches as a contractor for several computer forensic software and hardware vendors. Brian has a Master's degree from Texas State University and holds several SANS and Computer Forensic certifications.

More about Stuhl
Director of Global Strategy and Operations for Government Solutions, FireEye
Panelist, Cybersecurity in the New Decade – Is Your Personal Data Seeing More of the World Than You Are?
Jon Ford serves as the Director of Global Strategy and Operations for Government Solutions at FireEye. He is a 21-year veteran in cybersecurity, incident response, and intelligence-led cyber operations in both government and commercial sectors. Prior to joining FireEye, Mr. Ford served in the Federal Bureau of Investigation (FBI) at FBI Headquarters' Cyber and Special Technologies Divisions. Mr. Ford is the FireEye responsible senior executive to multi- & bi-lateral strategic partnerships throughout the world and leads global teams of cyber experts who not only respond to the largest breaches and crisis events worldwide, but also delivers executive thought leadership, national capacity capabilities, and unique security program capabilities and solutions to protect critical missions, infrastructure, and national security interests worldwide.

More about Ford
Panelist, Cybersecurity in the New Decade – Is Your Personal Data Seeing More of the World Than You Are?
Entrepreneur and businesswoman Janie Martinez Gonzalez founded and built one of the first Latina CEO web development companies in Texas, Webhead. She is a well-respected technologist, philanthropist and industry influencer with 25 years of professional executive experience. Webhead is a market leader in Web, Business Intelligence and IT Security. She is passionate and committed to propelling individuals and communities in need and firm believer in higher education and careers in STEAM. She earned an Associate of Arts from Palo Alto College, Bachelor of Arts in Sociology from the University of Texas at San Antonio (UTSA), postgraduate work at the University of Incarnate Word, followed by the University of Texas at Austin's Graduate School of Business Community Advancement Program.

More about Martinez Gonzalez
Christopher Flores, Ph.D. (B.S., B.A. '10)
Senior Data Scientist, USAA
Panelist, Big Data: For Good or For Evil (or Both)?
Christopher Flores, Ph.D. (B.S., B.A. '10), is a Senior Data Scientist at USAA Federal Savings Bank where he provides applied machine learning services to teams responsible for several products. Prior to becoming a data scientist, Flores earned his doctoral degree in nuclear physics from the University of California, Davis while working as part of an international physics collaboration based at Brookhaven National Laboratory. Flores is a proud St. Mary's University alumnus, having earned his Bachelor of Science and Bachelor of Arts degrees in Physics and Mathematics in 2010.

More about Flores
Kenneth Shelley (B.A. '08, MBA '09)
Associate Director of Benefits, AT&T
Panelist, Big Data: For Good or For Evil (or Both)?
Kenneth Shelley (B.A. '08, MBA '09), Associate Director of Benefits at AT&T, received his undergraduate education from St. Mary's University where he graduated with degrees in Mathematics and Exercise and Sport Science. He also received an MBA from St. Mary's in 2009. He has been working at AT&T for 13 years, holding positions in Sales, Benefit Compliance, Benefit Administration and Policy. He has worked on AT&T Pension, Savings and Health Care plans and is currently working towards his MS in Data Science at the University of Notre Dame.

More about Shelley