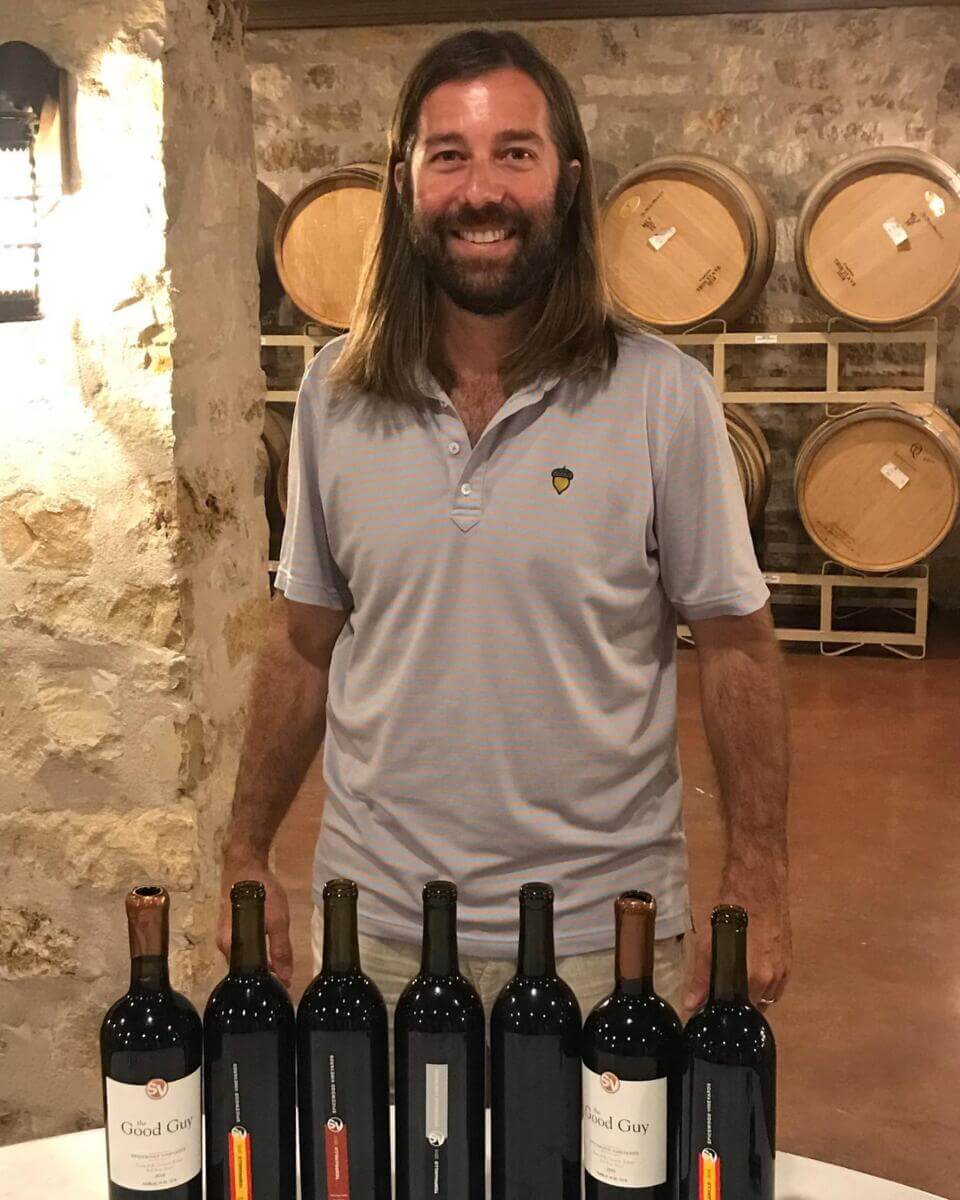 The 2021 growing season was supposed to be hot and dry due to a La Niña climate pattern — which tends to lead to droughts in the Southern U.S. — but then something unexpected happened: Spicewood Vineyards in the Texas Hill Country experienced 40 inches of rainfall between May and August.
Ron Yates (J.D. '05), the winery's owner, knew that these conditions wouldn't produce fruit that could reach peak ripeness for red wine.
So he pivoted. Instead of red wine, the winery would make rosé.
This unpredictability is not new to Yates. After being in the wine-making business for 15 years, you learn to roll with the bunches.
"There are so many variables in Texas you have to worry about," Yates said. "California winemakers can set out a spreadsheet for the next 10 years, and for nine out of those 10 years, that's how it's going to go. Here, you have to be OK with your best-laid plans not coming to fruition and you've got to learn to pivot."
Yates fell in love with wine during a semester spent in Spain while he was an undergraduate student at the University of Texas at Austin. The son of his host family, a tempranillo grape grower in the Ribera del Duero wine region, introduced Yates to the process of winemaking.
"It looked a lot like home with rolling hills, granite, limestone and clay soil. It was hot and the river ran through. Being the kid of many generations of ranching Texans, I said, 'One of these days, I'm going to plant some tempranillo.'"

Ron Yates (J.D. '05)
But before he found his way to Spicewood Vineyards, Yates attended the St. Mary's University School of Law. At that time, he was also courting his first love: music.
By attending law school, Yates learned the contractual side of artist marketing and management. He and a friend started a record label while he was in law school, and he followed that passion for about four years.
"I play a very poor guitar, so I realized early on that I was never going to be a performance guitar player, so if I wanted to be in the music business, I needed some other entry," he said.
During law school, Yates greatly enjoyed his criminal law and administrative law classes with Professor of Law John W. Teeter Jr., J.D, and his contracts class with Professor of Law Mark W. Cochran, J.D., LL.M.
"Ron was a very bright, creative and friendly student with a genuine zest for life and an enviable head of hair," Teeter said. "I always knew that Ron would make us proud and I'm pleased but not surprised by his success."
Yates worked with a variety of artists, including Grupo Fantasma, Glen Phillips of Toad the Wet Sprocket and many young indie rock artists.
"My favorite thing was getting to hear music all the time and to help younger kids get their band started," he said. "Getting to be around so many creative people was inspiring to me."
From Record Label to Wine Label
The memory of his time in Spain never left him. After leaving the music business, Yates was ready to pursue winemaking. But before he came into the ownership of Spicewood Vineyards in 2007, the previous owners needed to make sure Yates was ready for the wine business.
"That July and August, I spent every day with the owners out in the vineyard and in the winery," Yates said. "I am really glad they did that, because two to three weeks in, I thought, 'This is ridiculous, I'm so tired and this is so tough, but I really love it.'"
Fifteen years later, Yates is the owner of two award-winning wineries in the Texas Hill Country. In 2016, he opened Ron Yates Wines in Hye, the sister winery to Spicewood Vineyards in Spicewood.
The wineries' accomplishments include awards from prestigious international wine competitions, such as the Concours De Lyon International Wine Competition in Lyon, France, the San Francisco International Wine Competition, the TEXSOM International Wine Awards and the Houston Livestock Show and Rodeo.
Though Yates is not a lawyer, he stills finds himself applying the lessons he learned at St. Mary's Law every day.
"It's funny to look back and realize that the things I've learned, even though they're not being used for the purpose intended with law school, have still become things I use in my everyday life all the time," Yates said.