May 17, 2021
San Antonio's first institution of higher learning continues to innovate new admission strategies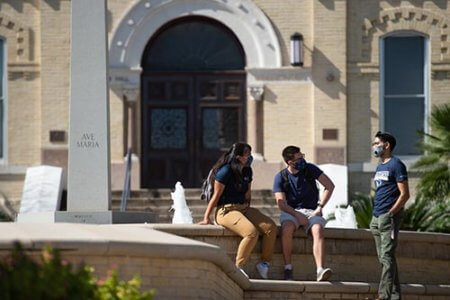 Undergraduate applicants to St. Mary's University can skip those standardized test jitters. The University announced today that the undergraduate admission process will become test-free beginning with Fall 2022 applicants.
The move makes St. Mary's the first university in Texas to solidify the test-free approach for its future undergraduate admission cycles, according to the National Center for Fair & Open Testing.
"We know that a student's ability to succeed in college is not just about a number," said Rosalind Alderman, Ph.D., Vice President for Enrollment Management. "Reviewing a student's application holistically certainly takes more time as we consider multiple inputs, but doing so also allows us to identify students who will excel at St. Mary's. We look for students who will become transformational leaders in our local and global communities. As Blessed William Joseph Chaminade, the founder of the Society of Mary (the Marianists), reminds us, 'New times demand new methods.'"

In an effort to support prospective students affected by the cancellation of ACT and SAT testing as a result of the COVID-19 pandemic, St. Mary's began offering an alternate, test-optional pathway to complete applications beginning with the Fall 2020 semester for incoming, first-time freshmen. 
The new test-free policy removes all consideration of standardized testing (SAT and ACT) in the evaluation of admission and scholarship to the university. This eases the admission process for students and the University while adhering to academic standards and quality.
The move also creates more equitable consideration of prospective applicants for the University long committed to providing access to students of all backgrounds seeking an academically rigorous education.
"I'm incredibly proud that in our first full test-optional year, the incoming class is as exceptionally qualified as it has been in past," said Tony Sarda, Director of Undergraduate Admission. "Our commitment to educational access and equity has been and will continue to be a cornerstone of the Office of Undergraduate Admission and the University. It is thrilling to be at the forefront of a new paradigm of how we make college admission work for students from across the country while keeping the level of academic quality for which St. Mary's is widely known."
Research conducted between the St. Mary's Office of Undergraduate Admission, Enrollment Research Associates and Akil Bello, senior director of advocacy and advancement for the National Center for Fair & Open Testing, has concluded that for 80% to 85% of first-time students, a standardized test score provides no additional predictive value in first- to second-year retention beyond what can be predicted by the student's accomplishments in high school and GPA.
Of those applying for admission to St. Mary's for Fall 2021, 75% were admitted without test scores under the current test-optional policy. High school GPA's for that class remain comparable to prior years.
Additional information about undergraduate admission at St. Mary's can be found on the Admission webpage.